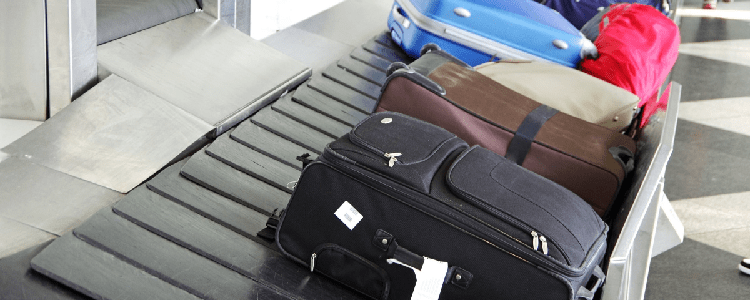 How do you pack for a business trip where you'll be gone for MONTHS? Reader B has a great question on long business trips, specifically, what to pack for extended business trips. Here's her question:
Can you give tips or do a post on how to prepare for short-term assignments? I'll be based in Hong Kong for 2-3 months for a project and I'm clueless on what to bring or how to pack. I'm tempted to take my entire closet! Help!
Excellent question. We kind of got at this in our discussion of what to wear for a month-long trial, but that's a bit different because a) you have to be on your best behavior, sartorially speaking — conservative, vanilla, "don't notice me for my clothes" kind of clothes — and b) well, that was a trial. We also kind of addressed this in our advice to the person who was going to school abroad for a summer, but I suspect your need for backpacking-friendly clothes is slightly less. (Pictured.)
Psst: Here are Corporette readers' business travel must-haves:

This post contains affiliate links and Corporette® may earn commissions for purchases made through links in this post. For more details see here. Thank you so much for your support!
What to Pack for Extended Business Trips
I'm curious to see what the readers say here, but here is what I would suggest: create a capsule wardrobe for work by picking a color family, both for your base color (for accessories) and then for your accent colors. For me this would mean a base color of black (for shoes, bags, belts, etc.) and jewel tones for accents (e.g. royal blue, purple, emerald green, mixes thereof). (Of course, check the weather before you start packing.) So I might pack:
a black suit with as many pieces as possible (e.g., matching blazer, skirt, pants, dress maybe a second second, a second blazer)
a gray suit with as many pieces as possible
a white blouse or sweater (see our nontraditional style ideas on how to wear wear a button-front shirt)
a black blouse or sweater
black pumps (at least two pairs — or perhaps a black pair and a purple pair)
5-8 work-appropriate tees in jewel tones
2 cardigans in jewel tones (or in black, white, or a black/white pattern) (am I the only one who's always freezing?)
1-3 bottoms (skirts or pants) in jewel tones or with a fabric distinctly different from the blazer (e.g., if your suit is a tropical wool, bring a linen or boucle skirt) (this is kind of the converse of our advice for how to wear a black blazer with everything)
silver jewelry (including at least one statement necklace)
perhaps one or two items from our "surprise workwear basics" discussion — e.g., purple pumps, a colorful bag, or a pair of olive pants (if they fit with the rest of your color scheme).

2022 Update: Here are our latest favorite sangria-colored heels and purple pumps for work!
This isn't to suggest that you have to wear a suit every day — but if you're going to wear black pants two days out of five, you may as well have a matching blazer to throw on if you want to. Yes, it gets a bit repetitive in terms of shapes (even if you're layering different colors with a tee/cardigan combo), but hey, I hear they have shops in Hong Kong, and this will let you adapt to local culture.
Note that there are also a ton of travel-friendly suits for women these days!
Psst: Some of our favorite travel-friendly suits for women include these brands: 1) M.M.LaFleur, 2) Ministry of Supply, 3) Brooks Brothers, and 4) Talbots — you may also want to check out our roundup of washable suits for women!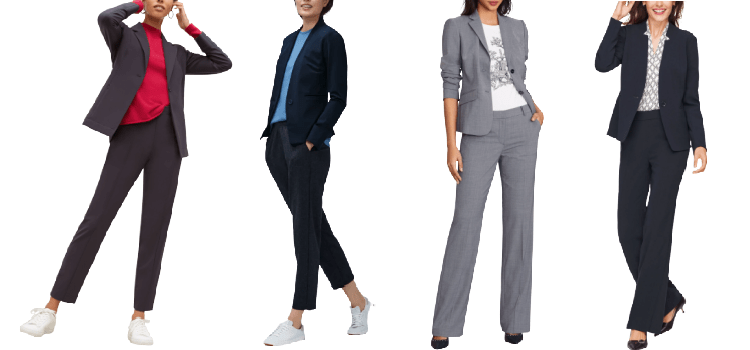 Readers, how would you pack for 2-3 months worth of business travel? If you have taken such a trip, what were you surprised about — either in terms of what you didn't expect to wear but did, as well as what you thought you'd wear but didn't? Were there any surprise workhorses?
Updated images via Deposit Photos / bitpics.