Pictured above, the best women's collared blouses as of 2023: one / two* / three* / four / five (* = available in plus sizes; see more in our roundup of the best plus-size workwear blouses — also check out our DIY options for gaping blouses)
Sure, we all know what basics professional women are supposed to have in their closets, but if you're buying one for the first time or replacing one you've worn into the ground, it can be a pain to find exactly the right incarnation in stores. In "The Hunt," we search the stores for a basic item that every woman should have.
We haven't gone on a hunt for the best dress shirts for women in a long time — so let's take a look, ladies! Which are your favorite spots to check first if you're looking for a classic, button up dress shirt, whether for interviews or beyond? Do you prefer a crisp dress shirt (like the ones we're featuring in this article), or do you prefer a silkier dress shirt?
A few older articles may be of particular interest in this discussion: a) if you prefer silky button-fronts, check out our Hunt for that one, b) if you're busty, check out our guide to specialty shops for busty blouses, c) one of our all-time top posts: 10 ways to wear a button-down shirt, and, finally, d) as a laundry tip, I've had great success with putting the shirts in the dryer for no more than about 15 minutes and then hanging them up to air dry.
Oh, and I'm on Team White-Camisole-Beneath-White-Shirt–but many others are on Team Nude Camisole; you can check out our discussion here.
First, some of our Hall of Fame styles — these are the best-selling, classic styles that have been around for years and are always highly rated:
Pictured above, the best women's collared blouses as of 2023: one / two* / three* / four / five (* = available in plus sizes; see more in our roundup of the best plus-size workwear blouses — also check out our DIY options for gaping blouses)
And, before we get to our featured styles for today, here are some of special interest categories for women's dress shirts: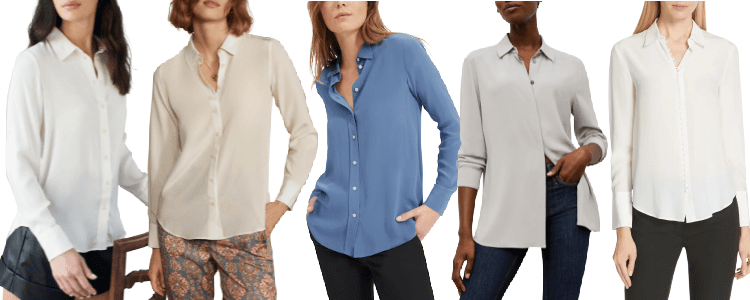 *Interested in more plus-size workwear? Please sign up for CorporettePlus, our newsletter! Signing up helps us gauge interest in the project, and we promise not to blast your email more than once a week at most. (Right now it's more like once a month.
Pictured, some of the best plus-size workwear blouses as of 2022: one / two / three / four / five
Curious for older roundups? Here's our last roundup of the best button-down shirts for women.
The below content may refer to products that are no longer in stock.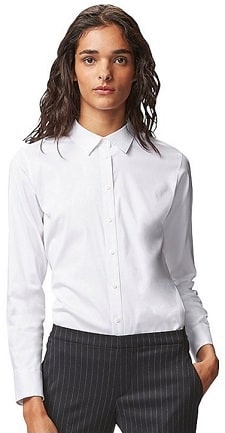 Uniqlo is always a great spot for basics, and this simple supima cotton dress shirt is only $29 and looks fabulous. It's available in white, black, light blue and light pink, sizes XS-XXL, for $29.90. Supima Cotton Stretch Long Sleeve Shirt
I've pictured this New York & Company shirt here, but I'd include Express's Essential Shirt in a very similar category — these are made from stretchy cotton, and come in a broader size range (e.g., XS-XL rather than 2-16), so they rely more on the stretchiness of the cotton for a good fit. The New York & Company option, the Madison Stretch Shirt, comes in a zillion different colors, as well as tall and petite sizes, for $23-$54 today — the Express option is $59 (buy one get the one 50% off) and is available in regular and petite sizes XXS-XL. (In my experience these are pretty easy care without all the chemicals involved in most non-iron or "wrinkle free" shirts, but I'm curious what others' experiences have been.) Pictured: Madison Cotton Stretch Shirt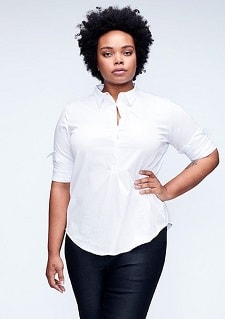 If you're size 10-28, Universal Standard looks like it has a great option in the Elbe shirt. As they note, "lot of thought has gone into the engineering of this top to allow maximum freedom of movement, an amazing silhouette, invisible built-in stretch, and everything you could want in your new favorite shirt." Nice! The Elbe shirt comes in black and white, for $80. Elbe Shirt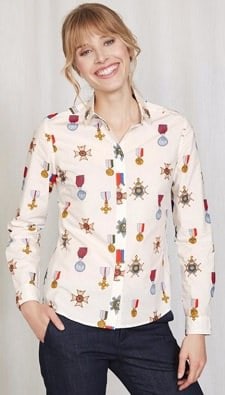 Hooboy is this an ugly print. Still: I'm choosing this particular picture to show you how nicely fitted Boden's "classic' shirt" is. It's available in white and light blue, and an ever-revolving group of patterns, including (ahem) medals. It's $80, available in regular and petite sizes 2-16, at Boden. (Don't forget to check out our recent roundup of how to build a work wardrobe at Boden!) Boden Classic Shirt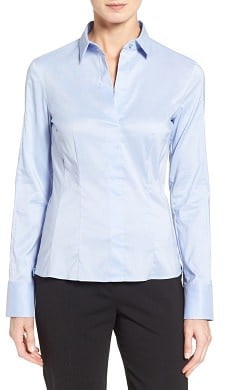 Hugo Boss's stretch cotton dress shirt has been around for ages, and it is still racking up good reviews. It's available at Nordstrom, Hugo Boss, Bloomingdale's, and Saks Fifth Avenue. (Also in this price range: this Thomas Pink women's dress shirt, which has also been around for ages.) Pictured: Bashina Blouse
Like this feature? Check out other recent installments!
This post contains affiliate links and Corporette® may earn commissions for purchases made through links in this post. For more details see here. Thank you so much for your support!
We are a participant in the Amazon Services LLC Associates Program, an affiliate advertising program designed to provide a means for us to earn fees by linking to Amazon.com and affiliated sites.