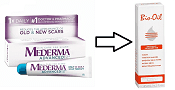 So here's an interesting question: how do you deal with wounds on your face that require a band-aid — is it better to be a dork for a week with a band-aid on your face (thus helping it heal) or is it better to "tough it out" and then be left with a permanent scar? I'm enough of a klutz to have injured myself twice in recent years, and I dealt with it differently when I was in a high-intensity work situation, so I thought we'd discuss.
Story #1: 
A few years ago, I was traveling for business and somehow managed to bonk my head on a metal sign. (Fine, fine — a TSA agent forced me to consolidate some of my stuff, and after repacking I stood up too quickly, somehow clipping the corner of my eyebrow on one of those "Will it fit in the overhead compartment?" stands). My vision was quickly blurred by blood — "am I bleeding from the head?" I asked the TSA agent — but I was, by this point, running so late that I was relieved to make it through security and on the plane at all. When I finally collected myself, I took a look — it was about a fairly small but deep gash just under my right eyebrow. I was a few weeks away from my wedding, and what then like seemed the most important pictures of my life. I tried not to cry. When I landed, I went to the closest drugstore, looking for supplies — the pharmacist recommended
Mederma scar cream
and band-aids. Because I had a conference to attend (meeting a TON of new work associates who I would only see in person once or twice a year) I decided to only wear a band-aid at night, and leave my face band-aid free during the day, my wound mostly hidden by my eyeglasses (which I opted for instead of my contacts precisely because they hid the gash). I survived the conference without further injury, and after three weeks of diligent use with Mederma, the scar was hardly noticeable (either in person or in pictures). Hooray for small victories, I thought, and hoped I never had to use Mederma again. If you look close today, though, I still do have a line where the scar used to be — it isn't raised or anything, but I can find it if I'm looking. So: no band-aid use, lots of Mederma, still have a scar.
Story #2: 
Cut to this past January — I was walking down a fairly sloped street near our apartment, when I somehow fell, tumbling down the slope. (It was totally graceful. Not.)  I was wearing my eyeglasses at the time, and they pressed into the side of my face, causing about a 1.5″ gash running vertically down my face near my eye. "There goes the TV career," I joked. This one bled less than the eyebrow gash, but was far more noticeable. Given my first experience with a facial scar, I decided to take a slightly different approach, wearing band-aids around the clock (the wound was big enough that I actually needed two band-aids to cover it completely), with a pretty liberal use of Neosporin on the wound itself. When the wound healed, I started with Mederma. That made the scar far, far less noticeable, but after eight weeks (the maximum time you're supposed to use Mederma), I still definitely had a scar. Then I read about
Bio-Oil
— I thought I had read about it as a more "green" alternative, but that doesn't seem to be among their claims. I bought a container of that and started applying it, as instructed, day and night, rubbing it into the skin. (I am pleased to say that I didn't break out or have any bad reaction to rubbing oil on just one spot on my face, but that may just be me.)  I still do it now about, but with far less regularity — maybe 2-3 times a week — but the scar is almost entirely gone. My guess is that the early band-aids and Neosporin made a big difference more than anything else.
Maybe other people are far less klutzy than I am (I hope you are!), but I just thought it might be an interesting topic for discussion — what do you do when you're faced with the option of wear a band-aid on your face or some other noticeable place for a week, or bear a bigger scar afterwards?
Workwear sales of note for 12.7.23
Our favorites are in bold!
Some of our latest posts here at Corporette…
And some of our latest threadjacks here at Corporette (reader questions and commentary) — see more here!