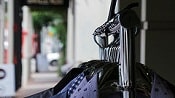 Where should you start when you need style inspiration? Are online stylists all out of your budget? Reader M has a great question:
I am a 48 yr. young corporate professional / entrepreneur /contractor looking for professional, age appropriate looks. Can you suggest a website that can guide my "lack of style" sense to better purchases within a reasonable budget, too? I really need a stylist but the internet is my next best option. I tend to like www.marieforleo.com and www.giulianarancic.com clothing but I am a size 16 (working on this part) and 5′ 3′ (wish it could change :) … two big issues… and oh yea, no heels for me. Thanks in advance for any help you can offer. I would love to find the info I seek here.
Great question, M! We've talked about some of the best personal style blogs before, as well as personal shoppers, but we've never quite done a post on stylists, or where to start for style inspiration. (M, you may also want to check out our post on how to look professional in flats when that's all you wear.) I'm curious to hear what readers say! A few notes:
Readers, have you tried any online stylists? Which blogs or other sources do you follow for inspiration? Readers size 16 and up, which blogs and public figures do you follow?
Pictured: Mens Wear, originally uploaded to Flickr by Theen Moy.