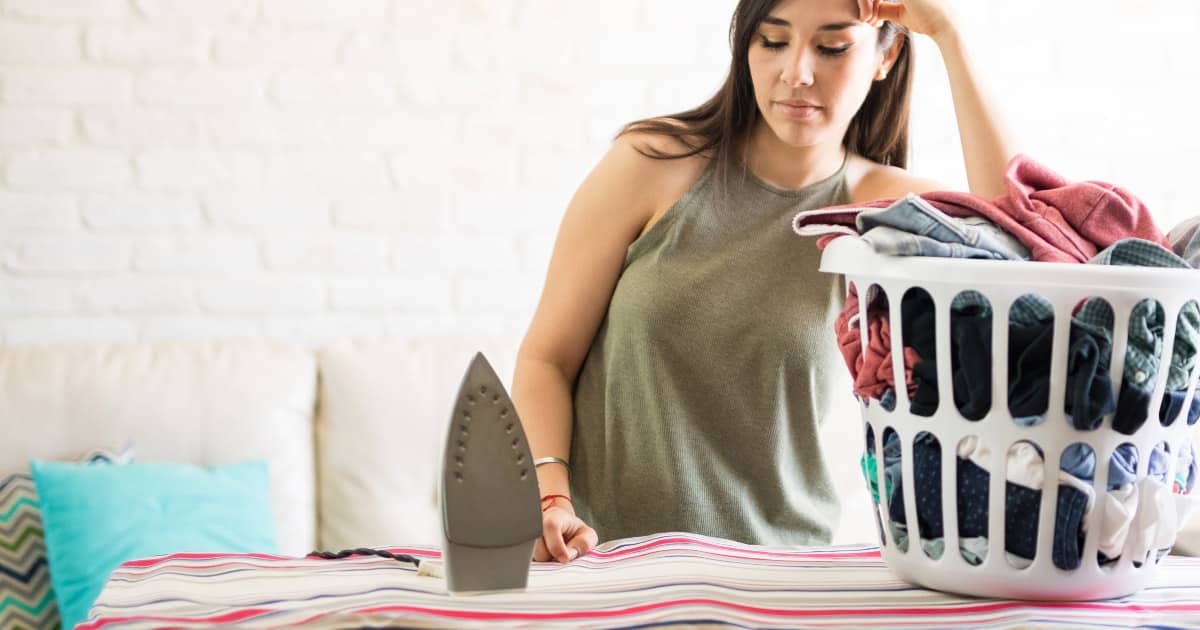 Even if your least favorite chore is washing dishes or cleaning the house, it's a good bet that you'd also love to iron your clothes less. (Or maybe ironing is your least favorite chore!) 
It's been years since we've talked about this — although we've more recently discussed how to keep white blouses white, how to wash "dry clean only" clothes, and how to care for your bras — so today we're sharing reader advice on how to iron your clothes less. Buying shirts marketed as "no-iron" is always an option, of course, but we'll go beyond that today (and with their safety issues in mind, those shirts probably warrant their own post — what do you think?).
What are your favorite ways to avoid ironing? Do you buy non-iron blouses for work? (And as winter clothes finally start to come out of storage, do you think there are bigger gaffes for workwear than wrinkled clothes, such as creases from folds in sweaters, or a cedar scent?)
Here's advice from readers on how to iron your clothes less (mostly from our last discussion on how to avoid ironing, many moons ago):

This post contains affiliate links and Corporette® may earn commissions for purchases made through links in this post. For more details see here. Thank you so much for your support!
Hang up your clothes immediately after taking them out of the dryer. Another reader pointed out that after you wash clothes made from fabrics you can't tumble dry, you should flap them around a bit before putting them on a drying rack. Related: Do you strictly follow label directions that advise "lay flat to dry" vs. "hang dry," or just put everything on drying racks?
Get a clothes steamer. One reader who bought a steamer on Amazon says it allows her to avoid ironing knits and other workwear items, although she doesn't advise using it on tailored button-front shirts. (This $26 steamer looks great!) Another said that she uses one on her suits (and notes that she always hangs up her suits after wearing). Wirecutter recently shared their picks for the best steamers, and two recommendations from readers are the Esteam Personal Hand Held Steamer ($75) and Steamfast SF-407 ($50) [affiliate links].
Try throwing wrinkled clothes in the dryer for a few minutes. One reader says that a 10-minute spin in the dryer works well for smoothing out t-shirts, sweaters, dress pants, and non-iron shirts. She adds a wet towel as needed, while a reader who replied said that she uses a handful of water. (Another said this trick removes pet hair, too.) My dryer even has a "Freshen Up" setting that I assume is designed for this, although I haven't tried it.
Use Downy Wrinkle Releaser (or a similar product). Amazon sells a 2-pack of 33.8-oz. sprayer bottles (almost 1,000 reviews) for $13.24 and also has a pack of 3 travel-size bottles for $7.97 [affiliate links]. One reader recommended a cheaper and more natural option: Put the item of clothing on a hanger and use a spray bottle filled with water.
Make sure to use fabric softener when you wash clothes. But according to Good Housekeeping, don't use it on microfiber, sportswear, towels, water-repellent clothing, or flame-resistant clothing. (Fortunately, your workwear wardrobe probably doesn't include those things — and if it does, you must have a really interesting job.)
Hang your suit, dress, etc., in the bathroom while you shower. Now if you brush your teeth in the shower too, you'll really be multitasking! (No, don't do that. Who wants to rinse their mouth out with warm water?)
Be a clothes-folding minimalist. One reader said that she reduces the creases in her shirts by only folding them once — in half vertically, down the middle of the shirt.
What are your tips on how to iron your clothes less? Do you use a clothing steamer, and if so, would you recommend the one you have? How much do you base your clothes-buying decisions on whether something is likely to wrinkle easily (linen, 100% cotton, and so on) or whether it requires dry cleaning?
Stock photo: Deposit Photos / tonodiaz.