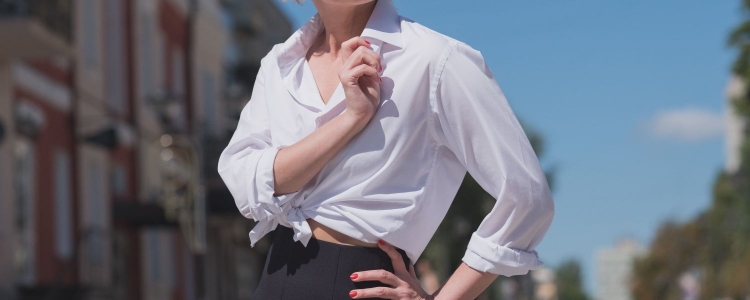 While Kat recently rounded up white work tops for spring, we haven't discussed how to keep white blouses white in quite a while.
Before researching this post, my knowledge of how to keep whites white was limited to "wash them in the washing machine" (or more realistically, just don't buy white shirts!), but to my surprise, there are many simple strategies to keep white blouses white. (If you haven't seen it, check out our advice on washing "dry clean only" clothes, too.)
How to Keep Whites, White
Here are several easy tips:
Wear a camisole (which your shirt may require anyway, if it's not opaque enough) with high armholes to help keep sweat away from your blouse at least somewhat. Another option is underarm shields.
Some of our favorite camisole brands (just look for one in white or nude-for-you):

Pictured above, our favorite camisoles for work: one / two / three / four (25+ different color combos in a 4 pack!)– don't forget about demi-camisoles too, such as this, this or this — or chemisettes!)
Keep like with like. Wash whites separately from colors, and also wash heavily soiled whites — your workout clothes, yardwork clothes, etc. — separately from lightly soiled whites. (For really dirty clothing, you can do a pre-wash soak in an enzyme detergent or spray or oxygen bleach first.)
Don't go overboard. Use only the amount of detergent that the label instructions indicate, or else your whites can end up looking gray. Don't overfill your washing machine, either; clothes need to have room to move around so that the detergent can do its job and dirt doesn't get put right back on them.
Wash hot enough, but don't dry too hot. To keep white blouses white, use the highest temperature that's safe for your clothes — water that's at least 120 degrees is the most effective. (Check the care label, of course.) If you use the dryer, choose a low-heat setting and take out your whites while they're a little damp, then air dry. If they get too hot in the dryer, it can cause yellowing. And if any stains are still there after washing, definitely don't put that item of clothing in the dryer, as it might make the stains permanent.
Go beyond detergent. Before washing, pre-treat stains and less-white areas with liquid detergent, dishwashing liquid, or colorless shampoo. During the wash cycle, you can use a "booster" product like Borax, washing soda, color remover (when your whites aren't so white anymore), or a bluing agent. However, avoid using fabric softener to keep whites blouses white — if you add too much, it can make your clothes attract soil.
Use chlorine or oxygen bleach. Bleach does a better job than detergent at keeping clothes white longer, and if you're not sure if your clothes are bleach-safe, you can try the "Bleachability Test" on Clorox's website. (Never use it on silk.) Be careful, though: If you use chlorine bleach too much, it might actually cause yellowing — so an oxygen bleach like OxiClean might be a better choice.
Wash according to the water in your area. For water containing a lot of iron, use a product like Iron Out, and pick oxygen bleach rather than chlorine bleach. If you have hard water, check the detergent instructions to see if adding more detergent will help.
Clean your washing machine regularly. After all, you can't expect it to get your clothes clean and keep whites white if it's not clean in the first place.
What are your tips for keeping your white blouses white? What are your favorite white shirts — and do you wear camisoles under them?
Psst: here are some of our favorite brands for classic blouses:

Pictured: Deposit Photos/fizkes.