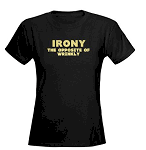 Can you look professional — without ironing your clothes every day?  Reader K is particularly curious about how to avoid ironing t-shirts:
Not sure if you or the commentators have any tips or tricks to keep folded shirts from creasing. Certain kind of fold? Only stacking two high? Certain detergent that is less susceptible to creasing? I know this sounds like a silly question, but I hate ironing my cotton t shirts (under cardigans, blazers, etc) first thing in the morning! Thanks.
Wow. I have to say, I'm impressed — much of my laundry routine is based around the fact that I will do almost anything to avoid pulling out the iron. I hang-dry my washable pants so the waists drag them down, straightening them. I buy non-iron blouses and hang-dry those after 15 minutes or — ha ha — I wear sweaters and other things don't require ironing. But part of this may be because I've always lived in NYC, and it's a pain to get the ironing board and iron set up in the inevitable small space that is an NYC apartment.
I'm curious to hear what the commenters say, but here are some thoughts:
Hang your t-shirts on hangers. I always used to do this with the shirts I wore to work, although I fold the ones I work out in.
Roll your t-shirts. If you don't have the space to hang your t-shirts, roll them instead of folding them. I do this when traveling, but recently saw (on Pinterest, of course) someone who had saved a ton of space by rolling all of her t-shirts.
Fold them the way they do in the store. At least this way, if you're wearing a cardigan the vertical "fold" lines will be hidden beneath the cardigan or blazer.
Have less shirts. This is just a hunch, but I'm guessing that freshly-folded clothes will need much less ironing than ones that have been sitting folded for months, or ones that are crammed into an overflowing drawer. When I switch seasons in my closet, I've often found it easier to remove wrinkles by just throwing stuff in the wash again (rather than ironing).
Readers, how much do you iron? Do you have any tips to avoid ironing t-shirts or other items?