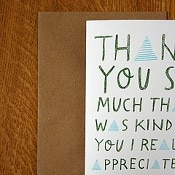 How do you respond when someone praises your work — without sounding like an entitled braggart (and without undermining yourself)? Reader T has a great question about compliments at work.
My question for you is, how do you respond to a co-worker (sometimes a supervisor) telling you they've heard great comments/feedback about your work? I'm confused as to whether this is a compliment you simply say thank you to, or is there more we should add? (i.e. I appreciate the opportunity to learn) It's not a direct compliment, yet somehow is one. I often feel the need to justify the passed-along compliment with an explanation, yet sometimes I inadvertently undermine my own efforts and achievements.
First, that absolutely is praise, so congrats to Reader T. I'm curious to hear what the readers say about whether you can undermine yourself with your response to praise. For my own $.02 — particularly as someone with an overactive imposter syndrome — I've definitely been tempted to respond with things like, "It was a team effort!" or "___ really helped by supervising me," or "I was really lucky to find the answer so quickly!"
Maybe it's a facet of age or experience (or just writing and reading about this stuff), but I'm pretty sure that my more recent response to any work-related praise has been (and will be) more along the following lines: Thanks. I'm glad you're hearing good things. It was a fun project and I'm happy to get started on a new one. All said with a smile but not necessarily exclamation points. I feel like these responses don't undermine your work by attributing luck or someone else. Maybe it's just me, but none of these responses really smack of WHY YES I AM A GENIUS HOW NICE OF YOU TO NOTICE.
I'm curious, readers — do you inadvertently undermine your own efforts and achievements, either by being overly humble or letting your imposter complex take over? Do you notice other people doing it?
Pictured: Thank You, originally uploaded to Flickr by HelloJenuine (also available for sale at Etsy).