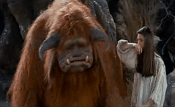 Reader R has a question about a smelly coworker that, I think, should spark a lively discussion:
I have asked numerous other people (coworkers and friends) and so far no one has given a polite and appropriate response to my dilemma. I work with a lawyer who smells awful. At first I thought it might have just been a random thing but more often than not he smells awful. Lately, he's gotten into this habit of talking very close to me and once (I am not exaggerating here) I nearly lost my lunch. It's much worse in the summer (he has an office with lots of windows and direct sunlight so the smells are intensified). What do I say to politely let him know he is emitting a bad odor? Do I leave anonymous mints on his desk and hope he takes the hint? Please help me. I don't want to be rude but I need to say something.
This problem comes up surprisingly often, I think, whether it's a problem with the conspiracy theorist who avoids deodorant, the hippie who doesn't like to waste water by bathing, people who have undiagnosed medical problems that leave them with strong bodily odors — and more. I'm curious to see what the readers say.
(Pictured: a screenshot from this YouTube clip of the movie Labyrinth
.)
For my $.02, there are a few ways to handle it. 1) Pass the Buck. You need to go to this guy's boss or the HR department and — privately — say that perhaps someone should talk to him because you've noticed that he emits a bad odor and that it may be off-putting to clients, as well as other coworkers. This is a legitimate business issue, and one that HR people or managers must have dealt with before. 2) Send an anonymous email. There are entire websites that exist to tell bad news to someone, anonymously. A quick Google brought me to
The Stench Informer
— but I still think it would be devastating to get an e-mail like that. 3) Do your best to change his behavior. Bring two mint teas with you whenever you have to work with him, for example. Chewing strong gum yourself may help you deal with him — the primary thing you smell may be the gum rather than him. There's a fourth option, of course — telling him directly, which is admittedly a bit more grown-up than my second or third suggestions. But ultimately, this is why the HR department (or the boss) exists — they have to have tough conversations like this, not you. If you're fond of the guy and worry his career would somehow be harmed if you kick it up the chain, though, then you may have to do the awkward thing and tell him yourself.
Readers, how would you tell a coworker that they smell?