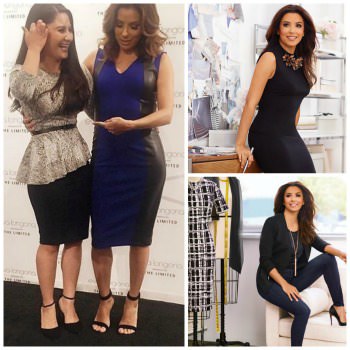 Please note this post is sponsored by The Limited, but written by your usual friendly blogger Kat Griffin.
Have you guys checked out the new collaboration between The Limited and Eva Longoria? The Limited has been among reader's favorites for years now for affordable suiting (their Collection Suiting line is awesome), their colorful Madison blazers (love the fun lining), and their very popular Ashton blouses and shirtdresses — so I was excited when they teamed up with Eva Longoria for a "work to wine" collection. I've heard great things about the collaboration, particularly about the fabrication of the garments being amazing and the feel of them being super soft, so I decided to take a look… and the pieces indeed have a perfect desk to dinner vibe.
Pictured at top: black/white dress, cobalt dress (on EL), black top (on EL), black jacket (on EL), black/white dress on mannequin. Pictured with Eva: @fda553587.
A number of the dresses are made of "power ponte, an impeccable double knit fabric with amazing stretch." I've felt some of the fabric, and it's a nice, heavy weight ponte, with a slight touch of a "suck you in and smooth you out" kind of appeal. This winter white dress, with a fabulous windowpane texture (you can see it better here) on the ponte, is one of my favorites — it's a total show stopper, and great for a warmer climate. (For some reason I love the idea of it with dark red nails, but that's me.) The dress is $109.95, available in XS-XXL. Eva Longoria Textured Power Ponte Dress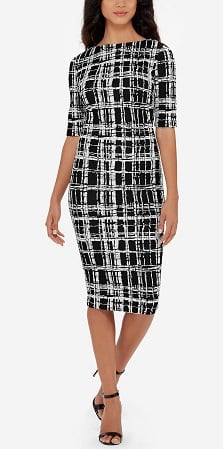 This black dress is very similar to the above white dress, but the knit is slightly lighter weight — the white dress above has 68% cotton / 28% polyester / 4% spandex, whereas the dress pictured here has 60% cotton / 38% polyester / 2% spandex. I love the pattern, though, as well as the elbow length sleeves and the boat neck — and huzzah for it being machine wash/tumble dry. The dress is $109.95, available in sizes XS-XXL. Eva Longoria Power Ponte Patterned Sheath Dress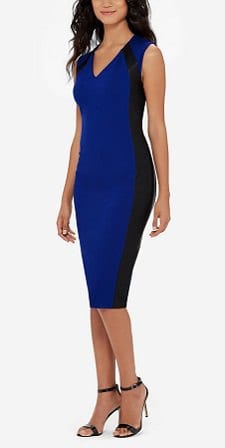 You know the dress must be good if Eva Longoria herself picked it to wear to some store parties — this picture of her and two different women (with different body shapes, and they all look fab) is great. I love the vibrant cobalt color, the flattering color blocking and the stretchy knit. (I like the sauciness of a touch of faux leather, but note that this is very much a "know your office" situation.) The dress is machine wash/line dry, and is available in sizes XS-XXL, for $129.95. Eva Longoria Power Ponte Faux Leather Dress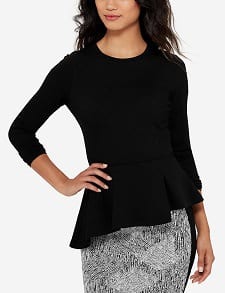 The dresses are the real stars of the collection, but there are a few colors of this dramatic top with an asymmetrical peplum hem, which looks great with pencil skirts, ankle pants, and more. (There are also two dresses with the silhouette, and if you like the look you can also pair it with a matching pencil skirt in the same fabric/color.) I love the idea of it with a long pendant necklace (like this or this), but that's me — it's available in black and cobalt, in regular and petite sizes XS-XXL, for $99.95. Eva Longoria Power Ponte Peplum Top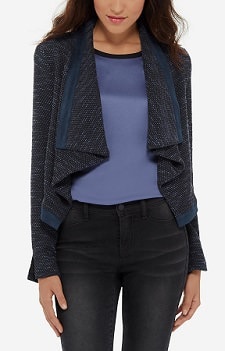 This cropped cardi/jacket is super soft, and the draping is fabulous. I love the color combination, too — a dusty gray/blue/navy can be really versatile. It's $109.95, available in XS-XXL. (If you're in a more casual office, this drapey vest in black is similarly soft, but it's much longer.)  Eva Longoria Textured Cropped Jacket
Readers, have you checked out the collection yet — what are your favorite pieces? 
A huge thank you to The Limited for sponsoring this post! 
(L-all)