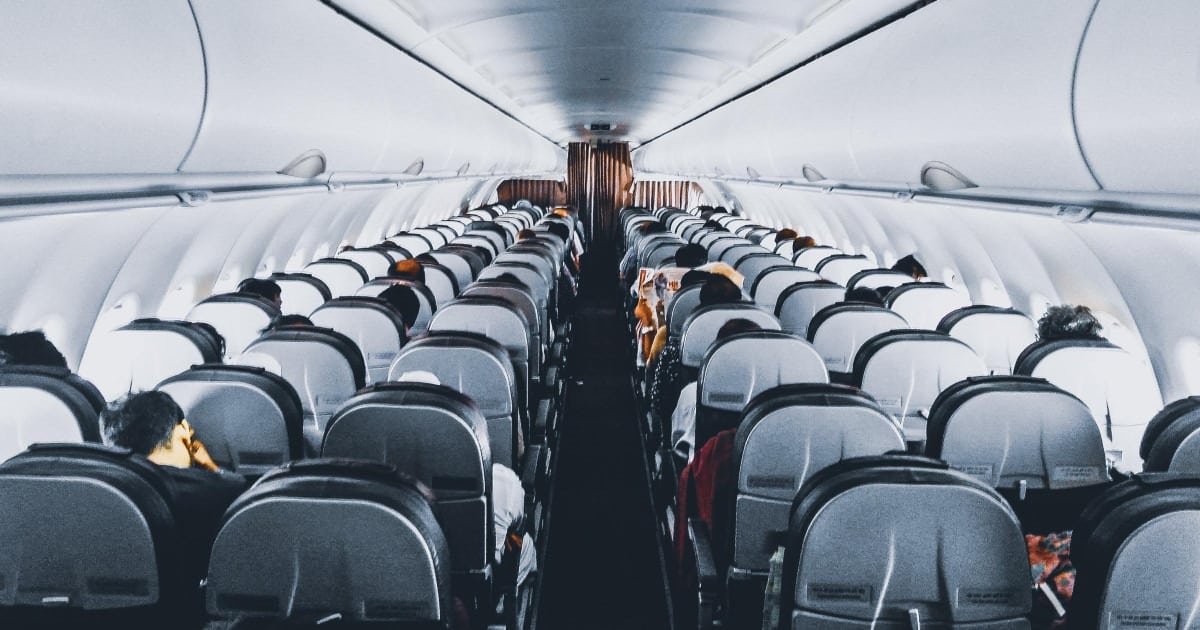 You want to look professional during a long flight with colleagues, but you're understandably not too eager to wear a suit for several hours of waking, sleeping, and eating. So, with your trusty flight outfit of a fleece + yoga pants staying in the closet at home, what can you choose that will be comfortable but still appropriate if you end up sitting next to your boss?
We've talked about traveling internationally in comfort and style, what to pack for an extended business trip, and traveling with coworkers, but not this exactly.
Reader N wonders how to look professional during a long flight with colleagues:
Could you do a post on comfortable, but professional attire for international or long flights? I have an upcoming business trip where my boss and two colleagues will be on a long flight with me. I want to look presentable but still be comfortable for the long flight. Thanks!
I can see this being a concern not only in this situation (traveling directly with coworkers) but in a situation I've been in, where there's a conference that almost everyone in your industry attends, so even if you're not traveling with direct coworkers, you end up seeing a million colleagues all over the airport, on flights, and via other travel hubs. What is the chic alternative to the flowy pants-with-matching-loose-jacket look?
A few thoughts:
Wear a dress. This was one of Road Warriorette's suggestions when she talked about what to wear on long flights, and I totally agree — this is going to be one of the easiest things to wear. You look put together but still comfortable, provided the dress you choose doesn't require too much Spanx. Pretty much any jersey dress will do, but there are wrinkle-free dresses that might be perfect for this kind of long trip, like this nice one from TravelSmith (on sale for $44). In the wintertime, go for dark tights; in the summertime I'd layer a slip-short like the reader favorite from Jockeys underneath, just for maximum ease of movement during travel. In the wintertime I'd pair it with tall boots (because, bonus, then you don't have to make room for them in your luggage), but that's just me.
If you're ok with looking casual — but leggings are TOO casual — consider pull-on jeans like these wildy popular Levi's ones. Paired with a nice sweater or even a blazer that you take off before you get comfortable in your seat, these can look great. (Don't forget our old video on how to fold a blazer.) We've actually got an entirely separate post on comfortable workwear for late nights.
Bring a wrap. This is so much better than a huge sweatshirt or travel pillow because you can use it as a travel blanket, a neck pillow (if folded properly), an added layer of warmth, and more.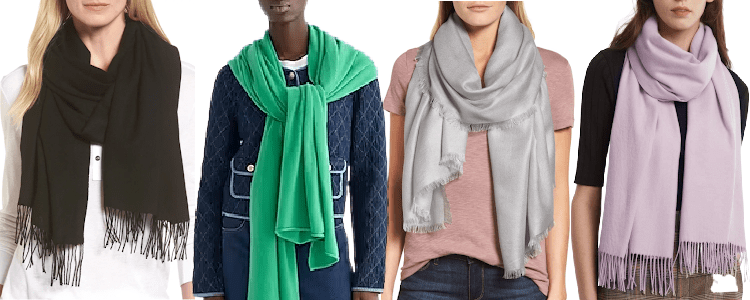 Some of our favorite office pashminas as of 2023: black / green / gray (lighter weight) / lavender ($20!!). If you're looking for more of a ruana jacket, I highly recommend the Brooks Brothers' ones!
Finally, if you have a choice in the matter, encourage the members of the group to NOT sit together on the long flight — it gives you a bit of "me" time and avoids the possible meet-cute situation of waking up on your coworker's shoulder. As an added benefit, it allows you to get as comfortable as you want in your seat without judgment — watch that cheesy rom-com, sleep with your mouth open, have a glass of champagne, whatever.
Readers, what are your best tips on how to look professional during a long flight for work? What do you wear to look polished but still be comfortable? Have you been in any situations where you know you wore the wrong thing (or one of your coworkers did)?
2018 updated images via Stencil. (Originally Pictured: London To Hong Kong Boeing Airbus A340 – 600, originally uploaded to Flickr by Chris.)
N.B. This post was originally written in 2014 but substantially updated in 2020, except where otherwise noted.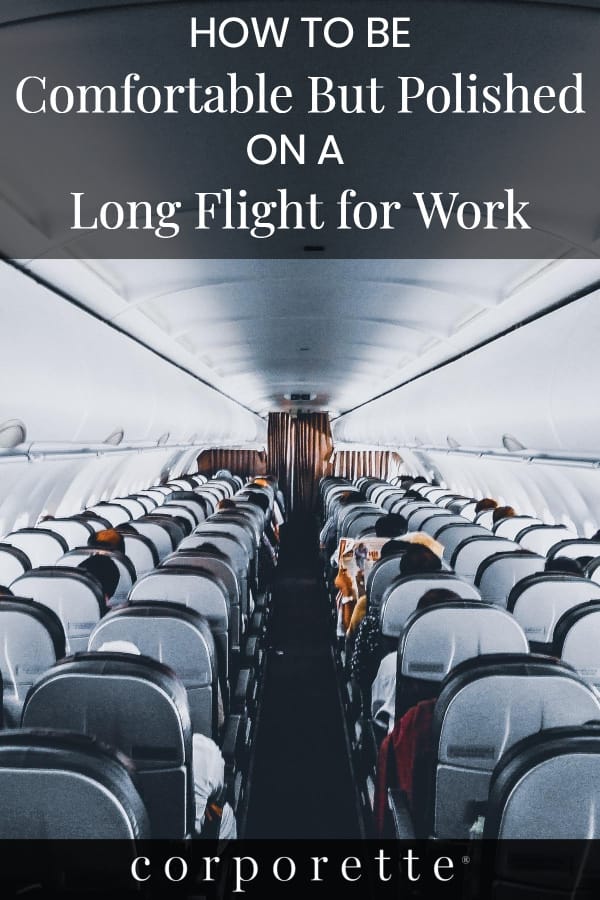 We are a participant in the Amazon Services LLC Associates Program, an affiliate advertising program designed to provide a means for us to earn fees by linking to Amazon.com and affiliated sites.