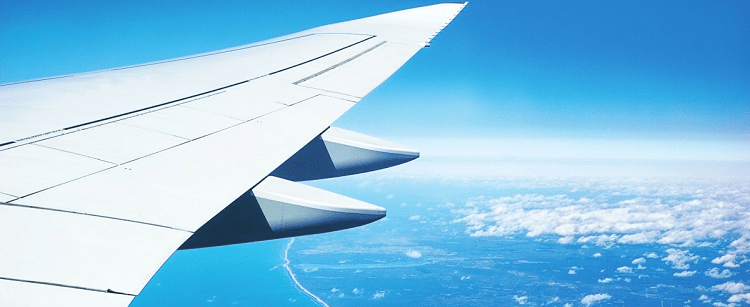 Hot on the heels of our discussion about where to shop in Asia, today's guest poster has some advice for how to travel internationally in comfort and style—and to keep your cool as a business traveler. Readers, welcome Courtney Gould Miller, a Los Angeles attorney and founder of the blog Chinaful, focusing on all things China, from law and business to culture, food, and travel. – Kat.
Before joining a law firm, I spent much of my time traveling Asia and Europe for study and leisure, learning new cultures and having a few mishaps along the way.
As I've learned since joining the firm, international business travel is very different – you've got to be prepared and ready to work, regardless of the setting.
Kat keeps us all up-to-date with the latest clothes, supplies, and technology we need as busy professional women, and I'm excited to share with Corporette readers a few of my must-haves to travel internationally for work in comfort and style.
Courtney's Tips for Traveling Internationally in Comfort and Style
1) hard luggage 2) sleep mask 3) travel wallet 4) water bottle 5) melatonin 6) rolling laptop tote 7) jewelry wallet 8) Kindle 9) tissues 10) protein bars 11) travel outfits
1) For too long, I struggled with heavy luggage with two wheels only to arrive at my destination with wrinkled clothes and spilled toiletries. I've converted to hardside luggage with four wheels, and I'm never going back. It's light, so you can pack more and stay under the fly limit. Best part? You look calm, cool and collected as you roll your luggage easily through the airport and your hotel. (Pictured: Heys Luggage Reflex 3pc Hardside Luggage Set; similar.)
2) If your firm or client springs for business class, you'll be set up with nice blankets and an eye mask to help you sleep on the flight. If you're in coach, you deserve the same – but you'll need to bring it yourself. (Pictured: Travel set, westelm.com; similar).
3) Most passport holders just have space for your passport – don't buy them. Get a travel wallet like this one to hold your tickets, foreign money, and your IDs. It's so much easier and then you only have one case to worry about when you're abroad. I have this one from Lodis that I use only when I'm traveling abroad – it helps me keep my foreign money and IDs separate from my US life. (Pictured: Audrey Passport Wallet with Ticket Flap; similar.)
4) The most important tip for international flights is to stay hydrated. You must drink water, and tons of it. It's easier to do when you're in first or business class, but you've got to do it in coach just the same. When I fly coach to China, I always buy the biggest water bottle I can find in the terminal, and drink it throughout the flight. (Pictured: Move Collective® "Bobble" Water Bottle, 32 oz., $12 at Bloomingdale's.)
5) I've never tried the natural supplement Melatonin myself for jet lag, but I've heard it works wonders for putting you to sleep and regulating your body clock. Of course, talk to your doctor before trying this jet lag remedy. I also find working out when I first get in helps me adjust to the new time zone. This is key when you need to be fresh off the plane and into your work. (Pictured: Natrol Melatonin 5mg 90 Fast Dissolve Tablets, $5.99 at Amazon.)
6) I tend to only carry-on for business trips, but international travel can extend several weeks and make packing light impossible. If I'm checking luggage, I like my carry-on to be a bag appropriate to use for work during the trip – as a lawyer, that tends to be a black bag wide enough to fit files, small enough to carry by hand but also with convenient wheels. (Pictured: Mcklein Women's Rolling Leather Laptop Tote, Glen Ellyn Laptop Friendly Convertible 2-In-1; similar.)
7) I tend to plan for simple jewelry when I am traveling for business and wear it all on the plane, if possible. If I need to pack it, I put it in a small cosmetic case and keep it in my carry-on for safekeeping. A girlfriend of mine had all of her jewelry stolen out of her checked baggage by a luggage handler while she was delayed and waiting on the plane. (Pictured: Vera Bradley Medium Cosmetic; similar.)
8) I thought Kindles and iPads were pretty unnecessary – until I got one. I'm able to load my firm e-mail, document management system, and VPN and work on the go – with the minimal monthly cost of cell service, I can be working online on my schedule and not just when I have WiFi. (Pictured: iPad 2, apple.com)
9) When I'm flying internationally, I always have a tissue pack in my purse. It's helpful for sniffles, but more importantly – bathrooms outside of the US don't always provide toilet paper. I've traveled to many a city in China, Turkey and Italy where you need to bring your own, and the most convenient means is a small tissue pack. Depending on your destination, toss one in your carry-on — you may thank me later. (Pictured: Emergency Supplies – Tissue Pack, $.45 at QuakeKare.)
10) Experiencing the cuisine on international business trips is one of the perks, but the new-to-you foods may soon have you hankering for a piece of home. This is all the more true if you happen to come down with a case of food poisoning and you need to keep working on the matter that brought you abroad. As a result, I pack protein bars – easy to grab on the go, and they keep as long as I need them. Choose something comforting to you (I tend to gravitate toward peanut butter). (Pictured: Quaker Chewy with Protein Granola Bars
, Nutty Peanut Butter, available soon at Amazon.)
11) Dress on the plane for travel and work. I'd recommend against wearing your suit for an international flight – after all, you'll need to sleep in your clothes. But if you are flying with colleagues, or in case you lose your luggage, you'll want to look presentable in your flight clothes. I recommend black from head to toe – my travel uniform is black ponte pants or thick leggings, a black v-neck, black or neutral wrap sweater, and black comfortable flats. (Pictured: Maison Scotch Oversize Cashmere Blend Cardigan Sweater Wrap, Diane Von Furstenburg Stephanie Leggings, and TOMS Camila Black Leather Ballet Flats (similar, or new favorite).)
Readers, what are your best tips on how to travel internationally in comfort and style?
Courtney Gould Miller is a Los Angeles attorney with a practice in Securities Litigation, the Foreign Corrupt Practices Act and internal investigations. She is the founder of Chinaful, a blog where she shares her experiences and opinions regarding China law and business as well as Chinese culture, food and travel.
2020 updated images via Stencil. Originally pictured: Aeroplane, originally uploaded to Flickr by Vox Efx.