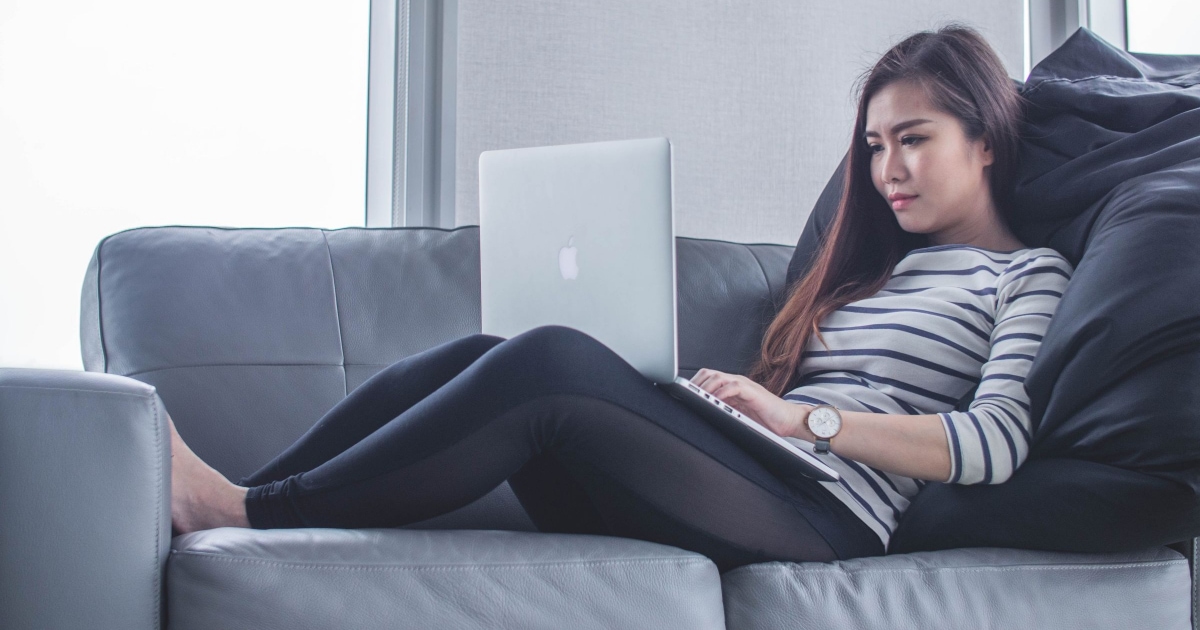 We've rounded up some great comfortable bras to work from home in, as well as some of the best leggings to splurge on, but since we've all got months of opinions' worth of this, I thought it would be fun to take a loungewear poll.
What's your favorite brand/style for:
bra(s) for working from home:
underwear:
workout pants/leggings:
workout bra(s):
workout tops:
sweatshirt:
cardigan for around the house:
t-shirt for lounging:
sleepwear:
For my own $.02, these are some of my favorites:
bra for working from home: I reach for my Soma bras a lot, but the Shapeez is also great for a long day (super comfortable and nice shape). Here is our roundup of some of the top styles…
underwear: for days when I'm just hanging out at home, I prefer 100% cotton underwear, and I don't really care about VPLs, so most of my beautiful Hanky Panky underwear and the like has gone unused, although I do have a few styles of all-silk underwear that are always a treat when they're clean. If you're on the hunt for 100% cotton, I'm a fan of the Jockey brand, with a shoutout to H&M's Conscious line of women's underwear.
workout pants/leggings: I have a ton of Old Navy workout pants and I reach for them all really regularly for indoor stuff; if I'm trekking outside I like my Zella fleece-lined, Nike Hyperwarm, or Under Armour ones
workout bra(s): If I'm running or doing something with a lot of jumping, Enell — but I have to work out and then take it off because it's too constrictive otherwise. I have some comfier workout bras from Glamorise and Anita for days when I may be hanging out in my workout clothes for a longer time.
workout tops: I'm not terribly picky about workout tops — I have some t-shirts with funny sayings, some old t-shirts, and some Champion/actual "exercise" tops.
sweatshirt: I've got a lot of sweatshirts that I like from Gap and Old Navy, and my mother's bought me a lot of the 32 Degrees ones from Costco.
cardigan for around the house: I have a number of Barefoot Dreams cardigans that I tend to reach for…
Some of my other favorite cardigans for lounging include these:

sleepwear: I'm a big fan of Soma pajamas…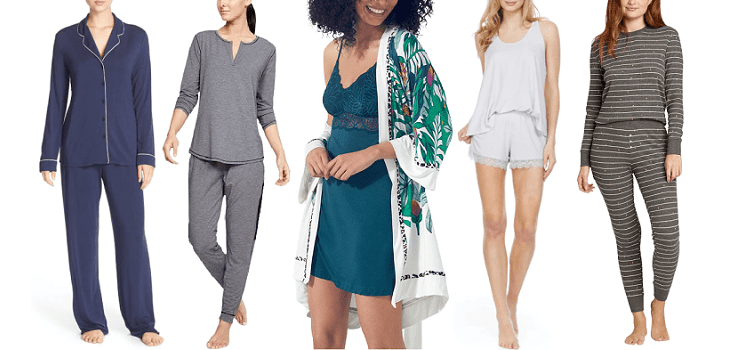 Some of the readers' favorite PJ brands: blue / gray / teal chemise / lavender / stripey (not pictured but also!)
t-shirt for lounging: I've been hunting for a good basic t-shirt for a while since my old favorites don't seem to be sold any more — my current favorites are the ones from Caslon and Madewell.
Psst: These were some of the top loungewear items readers loved in 2020…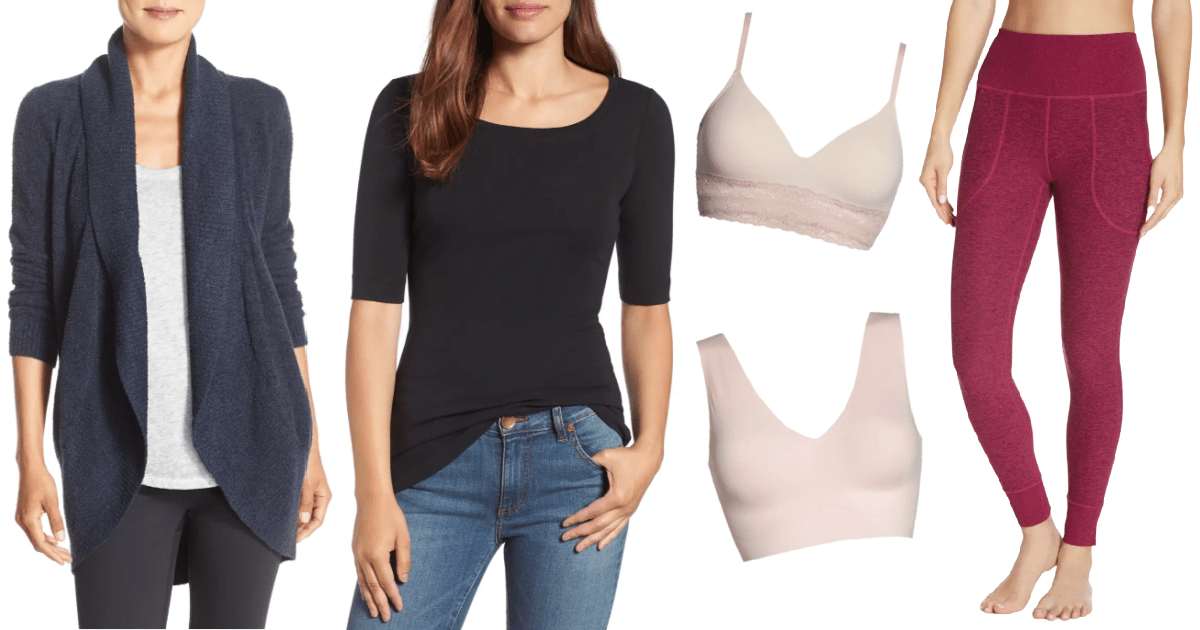 Above: navy cardigan (can work with some work outfits also!) / black t-shirt (also great under suits!) / banded bralette (top) / smooth bralette / soft pocket leggings