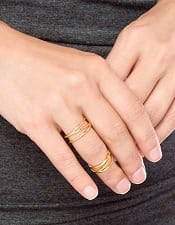 Midi rings at the office: yea or nay? In terms of the bigger picture, how do you know whether to try out a fashion trend at the office? What makes certain jewelry or accessories too trendy or unprofessional for work? Reader J wonders:
I normally don't wear any rings other than my wedding bands but I recently bought some midi rings on a whim and I am wondering if they are appropriate to wear to the office. I am a solo attorney, so I can wear what I want but I don't want to look unprofessional. I'm thinking like 3 max on my right hand and I would not wear them to court, just on days that I am at the office. What do you think?
We've talked about how to start a professional jewelry collection, when to splurge on jewelry, wearing religious jewelry to the office, when to wear pearls and how to buy pearls, but not this.  I just yesterday saw a Facebook post where people wondered whether midi rings were "connected somehow or separate," so there's obviously some confusion there — let's discuss. (For the record, they can be both! But most of the ones we're discussing below are separate.)
For my $.02:
Simple, delicate jewelry is always going to be more work appropriate than other types — and I think a simple midi ring wouldn't be a big deal.
While wit has its place in jewelry, watch out for overly loud statements.  This lips ring, for example, would be cute as a delicate, regular-sized ring — but as a midi ring AND a lip ring, it feels like a bit much to me. (Ditto, say, for this set of breakfast midi rings, or this skull midi ring.)
Avoid wearing multiple trends at once — for example, I think one of the reasons the picture at top works is because her nails are barely painted.  On the other hand, I think the picture at right almost looks a bit trashy, in part because of the greige color on the nails, combined with the thumb ring and numerous layered rings (I count five on her left hand alone!).  It's a fun look for a weekend in distressed jeans and boots, but not, for my $.02, for the office.
Ladies, what do you think about midi rings — are they appropriate in the office?
(Pictured at top: gorjana 'Isla' Ring & Midi Ring, one of several available at Nordstrom for $78. BaubleBar and Etsy also have a bunch of nice ones, particularly if you search under "hammered.")
—————
N.B. PLEASE KEEP YOUR COMMENTS ON TOPIC; threadjacks will be deleted at our sole discretion and convenience. These substantive posts are intended to be a source of community comment on a particular topic, which readers can browse through without having to sift out a lot of unrelated comments. And so, although of course I highly value all comments by my readers, I'm going ask you to please respect some boundaries on substantive posts like this one. Thank you for your understanding!