Hot on the heels of our post about the best splurges (in which I include my pearls), I thought now would be a great time for guest poster/Corporette commenter "Kanye East" to demystify buying pearls for us.  In real life,the author is an attorney at law, New York City ex-pat, sarcastic Corporette commenter, and amateur metalsmith. On the rare occasions she leaves the office, Ms. East slays dragons and makes jewelry with their treasures.

I only have a few hard-and-fast rules when it comes to purchasing jewelry. Rule One: know what you're buying. (There's also Rule One-And-A-Half—don't get ripped off—but it's really just a restatement of Rule One). Rule Two almost throws the other rules out the window: buy (and wear) what you like. That's it. Two and a half rules. Still with me? Good. We've already covered metals, so now let's talk pearl basics.
Pearls are organic, non-vegan gems produced by different varieties of mollusks, both salt water and freshwater. They're created when an irritant (nucleus) is introduced and then covered by the mollusk in layers of nacre. When this occurs naturally, pearls fetch top dollar; when it's achieved with the intervention of pearl harvesters, it results in "nucleated" or "cultured" pearls, which tend to be more affordable.
Generally speaking, saltwater pearls are more valuable than their freshwater counterparts. Why? In life, as in Econ 101, price depends on rarity, and most saltwater mollusks produce fewer pearls per harvest than freshwater mollusks. Other factors to consider are shape (perfectly round pearls command higher prices), color, surface, and luster, and many saltwater species excel in these areas as well. (Pearl Paradise has an excellent round-up of shapes and colors here.) The overwhelming majority freshwater pearls on the market today are grown in man-made lakes and reservoirs in China. Saltwater pearls (South Sea, Tahitian, and Akoya) are produced throughout Asia, Southeast Asia, and Oceania.
Luxury Pearls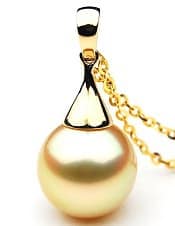 Rich ladies on Park Avenue and Chinese pearl dealers overwhelmingly agree on one thing: the best pearls in the world come from the South China Sea. A rope or double strand of round South China Sea pearls never goes out of style. White and golden are the most common colors.


Akoya pearls, named for the akoya mussel that produces them, are another classic, and the most popular saltwater pearl. Akoyas are consistently round or near-round in shape, and most commonly available in white, black, peach, and gold.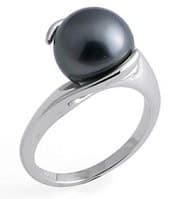 Mention Tahitian pearls, and most people think of black, peacock, green, and chocolate pearls, all of which appear naturally in this variety. To jewelers and pearl dealers, the name "Tahitian" is reserved for pearls produced by the Pinctada margaritafera mollusk in French Polynesia, but be careful because "Tahitian" and "Tahitian black" are often used to refer to color, not the origin. Cultured Tahitians have been available for about three decades; before that, a strand of black Tahitian pearls could cost a fortune. Oh let's be real: they still can.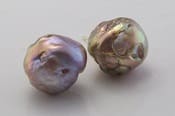 Kasumi pearls are named for Lake Kasumi, a freshwater lake in Japan. Characterized by a rippled or wrinkled surface, Kasumi pearls are usually available in varying shades of blush and lavender, frequently with metallic (golden or copper) overtones frequently called "pondslime." If you like the look of Kasumi pearls but not the hefty price tag, look for "Kasumi-like" or "rosebud" pearls and you'll find lots of other affordable variations.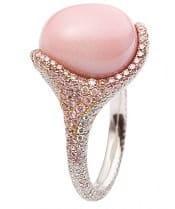 One of the only truly natural pearls, conch pearls are among the rarest in the world. They're produced by the queen conch mollusk (Lobatus gigas) and occur very rarely—you could search 10,000 conch shells without ever finding one. Their color always ranges from pale pink to orange, and the best specimens have a subtle flame-like pattern. Conch pearls were the darlings of Art Nouveau jewelers, but you're unlikely to find them today due to their rarity. (Here's another picture, this time from Sotheby's.)
Attainable Pearls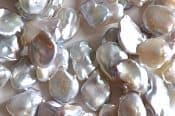 Keshi pearls (sometimes called "petal" or "Corn Flake" pearls) are non-nucleated pearls that are formed when a mollusk (salt or freshwater) rejects an implanted irritant or nucleus before the culturing process is complete, or when implanted material fractures and forms separate pearl sacs without nuclei. These pearl sacs eventually produce pearls that are 100% nacre, usually with a flat, irregular shape. Keshi pearls come in a wide variety of colors, and tend to have very high luster due to their solid nacre composition. Most keshi, in fact, have a greater luster than even the highest quality cultured pearls.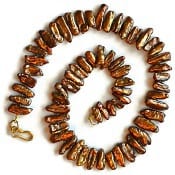 "Biwa pearl" used to refer to pearls from the Hyriopsis schlegelii mollusk native to Lake Biwa in Japan, where freshwater pearl cultivation originated. Renowned for producing high-quality stick-shaped pearls, Lake Biwa ceased pearl farming operations in the 1970s. But you'll still see similar looking freshwater pearls called "Biwa," "Biwa style," or "Stick" pearls.
Freshwater cultured pearls are available in virtually every shape, size, and color imaginable. Most freshwater pearl jewelry on the market has dyed or irradiated to enhance color, and depending on the quality of the materials and the skill of the pearl dealer, the colors should be safe and long-lasting without bleeding or fading over time. Spoiler alert: truly natural pearls are very rare, so if you see pearl jewelry described as "natural," it usually just means the pearls have not been color-treated.
The "Fakes"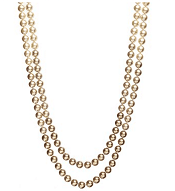 Finally, there are imitation pearls. Apart from being more affordable, glass pearls and shell pearls also offer uniformity of size and color, with far less environmental impact than pearl harvesting.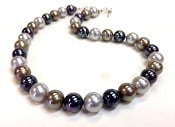 Shell pearls are created by repeatedly dipping a mother of pearl or shell nucleus into a solution of binders and crushed mother of pearl. They are polished and dipped again and again until they reach the desired size and color depth. Shell pearls will always keep their shine and color, and will not be affected by sweat, perfume or detergents, although they should be carefully cared for just like natural pearls.
Readers, which are your favorite kinds of pearls?  What length and size do you prefer, and where do you like to buy them?