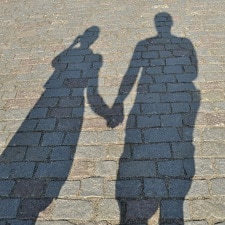 2018 Update: We still think this is a great guest post with tips on online dating for professional women, but you may also want to check out our more recent discussions on love, including dating advice for career-driven women.
Online dating is something we've discussed from time to time on Corporette, such as when we asked you for your favorite online dating sites for smart chicks, as well as discussing how to find time to date when you're busy, when to break it off, how to date a busy guy, and how to date a guy with more time (or less money) than you. I've been off the market for a while, so I asked reader Kryss Shane to guest post — she is a dual licensed psychotherapist who also does life coaching, and offers private Skype sessions for self-pay clients. Welcome to the blog, Kryss!
As Kat tells me, when she was last single, there were a few main online dating sites for smart women, each known for their own crowd (one full of Christians, one just for those wanting to hook up, etc.).
A lot has changed since then. Now the web gives us some generalized dating sites (OkCupid, PlentyOfFish, Match.com, etc.) as well as options for those who are seeking a partner with shared religious beliefs (JDate, ChristianMingle) or for those in a specific demographic (OurTime, for people over 50; BlackPeopleMeet; InterracialMatch). There are sites for cougars, for those looking to date a prison inmate, for wine drinkers, and animal lovers. There are sites for fetishes, for preferences, for moods, for just one night, and for those looking for forever. Add in the apps for your cell (Tinder, Grindr, etc.) and it can certainly feel overwhelming!
For professional women, dating can already be tricky enough; some are turned on by our power, others feel competitive or resentful of it. We question whether to add our job titles to our profiles, we debate whether our photos should indicate what we do, we wonder if someone who looks but doesn't message was turned off by our professional status. In short, we're women who live in a society that teaches us in so many ways that we are doing what we shouldn't: being self-sufficient, educated women.
Rather than attempting to break down the pros/cons for each of the major dating sites, let's focus on the shared goal of trying to find the right match(es). With hundreds of thousands of people on these sites, how can a person with limited time properly narrow down the options? (Pictured: Schattenpaar, originally uploaded to Flickr by Benni.)
Online Dating Advice For Those Seeking Long-Term Partners:
Start with a list
Make a list of every single thing you look for in your perfect match (between 5'10 and 6', makes at least 75K, owns a dog named Spot, goes to church on Sundays, etc.) Make the list as long as you can. Now begin to group the items on the list into similar categories (appearance, career, free time, beliefs, etc.). Take a look at each category on its own and figure out what the overall theme is (ex: dresses well + straight teeth + short hair= I'm looking for someone clean cut!) Next, place the themes in order of importance.
Turn the list into requirements/dealbreakers
Take a look at your past relationships, at the traits of your partners that worked well for you and the aspects that created stress. Are those acknowledged on your list? Think about what is truly important and make a list of 3-5 "must haves" and 3-5 "absolutely nots." Be as realistic as possible without worrying what someone else might think. (If straight teeth or being taller than you is truly a must-have for you, don't remove it out of fear of appearing shallow.) In addition, take time to think about what will truly impact a relationship (maybe the person doesn't have to have a dog named Spot, but you want to find someone who will be loving to your dog).
Your list might look something like this:
Requirements: passionate about career, steady income, similar/same political beliefs, attractive to me, affectionate
Dealbreakers: has/wants kids, lacks ambition, has a lot of emotional baggage, poor money management skills
Online Dating for Professional Women Seeking Short-Term/One Night Partners:
Often the requirements are more basic and largely based on attraction, availability, and convenience. Make sure to also consider your dealbreakers: do you want someone to come to you, do you feel more comfortable going to them, should it be someone with common friends or maybe someone you'll never run into again?
Now, to the dating sites!
Which one(s) to choose? Spend a bit of time online reading any of the many "best dating sites" compilation lists and choose what makes the most sense to you. Consider whether you are looking to join free sites (no cost but possibly fewer people who are seriously looking for love) or paid sites (financial investment, but this may keep out those who aren't serious in their search). Consider whether niche sites add to or detract from your end goal (e.g., if you're seeking someone 50+, OurTime will prevent you from weeding through zillions of 20somethings. If you're not race-specific, BlackPeopleMeet would prevent you from interacting with those of other races who might be a great fit).
Craft your profile
Look at your list of requirements/dealbreakers. Write your profile to attract that person. For example, if you're seeking someone who appreciates a good novel, mention your favorite book and what you're reading now. If you're seeking someone who loves the outdoors, don't talk about your enjoyment of nights in; write about your favorite hiking spots.
Choose your photos
Again, choose the images based not only on shots in which you look good but also keeping in mind the type of person you're trying to attract. For example, if a requirement for you is someone who is clean cut and works out, you likely won't want to choose a photo of yourself hungover and wearing sweats, but a photo of you after you participated in a Color Run would be great! If you're looking for someone who is outgoing and silly just like you, a photo of you studying might not catch the person's eye as much as a photo of you at karaoke.
Ok, so I have a profile up… now what?
As the responses roll in, keep an eye on your Requirements/Dealbreakers list and compare it with the people who are sending you messages. If someone meets your requirements without having any of your dealbreakers, that's a great reason to begin a conversation! Allow yourself to chat with people who might not look the way you envisioned or who might be very different from others you've dated. On the other hand, don't let yourself get sucked in by a great looking person who lacks items on your requirements list and/or who has traits on your dealbreakers list.
I'm ready to meet!

For those seeking long-term, short-term, and one-night partners:
When meeting, remember that you don't know this person. Sometimes traded emails and texts can make a person feel secure, but the reality is that you are meeting a stranger. Use caution; meet in a public place (some folks arrive at the restaurant/bar/coffee shop a few minutes early and mention that they're on a first date to a staff member for additional safety). Trust your instincts. (If your gut says something is wrong, get out of the situation first, question your reasoning after.) Tell a friend where you'll be or download the Kitestring app.
Most importantly, have fun! Remember that not everyone is the perfect match but that the bartender might become your new friend or the dud date might realize you're perfect for a colleague; you never know what might happen…
Happy Dating!
Readers, what are your best tips for online dating? Any favorite sites?