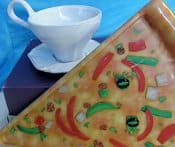 2018 Update: We still stand by this discussion on when to set up house (especially the idea that young professional women should feel OK about buying nice dishes or sheets or even houses before they're partnered!) — but you may also want to check out our more recent discussion about how to stop putting your life on hold. 
When did you first really set up house for yourself — buy dishes and nice furniture? Did you wait until you were married, or when you bought a house or apartment for yourself? When you turned 30? Are you still waiting? I don't know why this has been on my mind lately, but I just thought it might be an interesting topic.
For my $.02, I had some basic (cheap) stuff — kitchen basics and furniture — from college onward, but it wasn't until I was 29 or so that I started buying nice dishes and furniture for myself.  This was due to a lot of factors, I suppose:  when I was in my early 20s I was on a tight budget; I spent my middle 20s in law school; and I spent my late 20s working extremely long hours so I was never really home that much.  (I am also about as far as you can get from a domestic goddess like Martha Stewart.)  I do think another big reason is that I spent my 20s, for the most part, single, and didn't want to "jinx" future happiness/"give up hope" by setting up house by myself. A few random memories around this topic:
a) I remember being around 22 and seeing a silly pizza-shaped plate (pictured above). I was living with a roommate but we didn't hang out together, and my friends and I all met out and about, so buying plates for myself felt domestic, like something I should only be doing if I had a significant other. I remember feeling… dishonest? hopeful? when I bought two of the plates, because I couldn't imagine ever using two at the same time.  (Of course we still use them now and we all wish I'd bought more.)
b) I remember a good friend, age 26 or so — possibly going through a fairly big breakup, if memory serves — going to Crate and Barrel and picking out a ton of plates for herself. It seemed very grown up to me at the time, and rebellious in an odd way.  (I was about to go to law school and dorm life again so nice plates were definitely not on the schedule for me.)
c) When I was 29 or so, I remember shopping in Macy's and for some reason being on the home goods floor — maybe buying a wedding present for a friend? — and seeing a teacup that I absolutely loved (pictured above with the pizza plate). I'm not a big tea drinker, but I'd never really felt that way about a dish — and so I paused. I'd bought jewelry for myself before, and had even considered buying myself an apartment by that point — but to buy dishes for myself just felt weird. I decided to buy four of the tea cups anyway because hey, who knew when I'd love a set of tea cups again so much? (My mother, upon hearing this, went a bit nuts and bought the entire set of dishes for me — and kept seeing them on sale so she'd buy more…)
Of course, I look back now and think, I was a strong, independent woman with savings — why was it so weird to me to buy anything for my home beyond the mere functional?  So I'm curious, readers — when did you upgrade from your college dishes, furniture, and so forth?  When did you set up house for yourself?
Picture of yellow flowers and blue plates via Stencil.