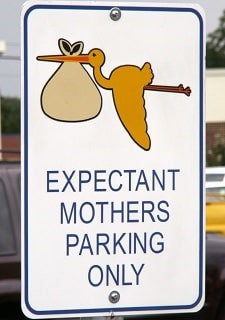 Pregnancy worries can run the gamut from childbirth to health issues to being able to conceive in the first place. Add in concerns about how your job will be affected by your pregnancy (to say nothing of parenthood), and you're dealing with a TON of worry. But is it as bad as future moms might think — and is there any point to worrying about it before it happens (or is that similar to Sheryl Sandberg's thoughts on "leaving before you leave")?
We've talked about many aspects of being pregnant — negotiating future maternity leave, handling frequent doctors' appointments, working through first trimester exhaustion, and how to announce your pregnancy at work — but we haven't touched too much on the worries that can loom large when you're thinking about getting pregnant.
Reader B's pregnancy worries involve handling her future pregnancy at work, as well as postpartum body changes:
I have a question that I have been looking everywhere to find answers to but have been unsuccessful, probably because the subject matter is TMI for most people and also very personal. I do not have kids yet but my husband and I plan to try in the next 3 years or so. Honestly, there is only one thing holding me back right now and that is my job. I absolutely love my job and plan to return after having a baby (I realize I could change my mind after having a baby), but the problem is that right now I share an office, with a male colleague. (I also realize that my office situation could change in 3 years, but I see no evidence of that happening.) My concern is with figuring out how to deal with bodily changes both while pregnant and after the baby comes and I return to work. I know that women deal with frequent bathroom trips, nausea, bladder accidents, milk leakage. How do I handle that while I office with a male coworker?
Hmmmn. I'll agree that there are definitely body-related changes both during pregnancy and postpartum — but I worry that Reader B may be putting the cart before the horse here (and, you know, packing the cart with a lot of unnecessary anxiety!). A few thoughts:
a) A lot can happen in three years! If you plan to start trying in three years, recognize that a lot can happen in that time — your officemate could change companies (or, who knows, become a parent himself), your office could move locations, you could get a new job, you could get promoted within the company so you get a new, single office, etc., etc.
b) Not every pregnant/postpartum woman suffers nausea, frequent bathroom trips, milk leakage, incontinence, and more. For those who do, I'd guess that the worst of it is in the first three months postpartum — when you hopefully will be on maternity leave anyway. By the time you get back you'll hopefully have figured it out. (If there's one thing that parenthood in general teaches you, it's that it's all figure-out-able — even if you know nothing about a certain topic at the get-go.) Take milk leakage, for example. Over at CorporetteMoms, we often recommend printed tops and dresses because, as new moms learn, they hide stains better, whether from milk, spit up, snot, sticky fingers, or more.
By the time you're back at work your milk supply will be much more predictable than it is during the first few weeks, and you'll be pumping on a pretty strict schedule, so random leakage shouldn't be too big of a problem. You'll probably also be emptying both sides at once, so you won't have to worry too much about leaks during the pumping. Sure, some moms see a picture of a baby or something cute and involuntarily respond with some milk let-down (it's a little similar to your eyes tearing up) — if you happen to one of these moms, you can just invest in nursing pads to wear in your bra to stop leaks.
c) Even if you do find yourself dealing with uncontrollable milk leaks or incontinence or even just gas (um, not to scare you, but here's a list of 20 things no one tells you about having a baby from Pregnant Chicken), here's the thing: everyone will deal with it. 
Maybe your coworker will laugh it off — maybe he'll go work in a conference room instead. (And maybe the pumping need alone will lead your boss to give you your own office, if you're lucky.) It'll be fine. If anyone is a jerk about it (or your workplace is collectively jerky about it, like, GAH, this recent NYT opinion piece), that's a problem bigger than your getting pregnant, and one that may rise to a discrimination/harassment level if your company doesn't make changes. (Here's our last discussion on dealing with sexist pig coworkers.)
I definitely get being anxious about kids when you're on the cusp of becoming a mom. (I won't go into my own story here, but… yeah, I really get it.)
But don't borrow worry. To every extent you can, enjoy the last few sane years of your life (for a while at least) without worrying about something far off in the distance that you can't control. Go forward. Live your life. Get pregnant when you want to, and if, afterwards, you involuntarily pee a little or leak milk, everyone will deal — particularly your male coworker. (If he even notices.)
Ladies, what are your thoughts for Reader B? Are you similarly anxious about trying to conceive or getting pregnant, when you're not even there yet? How do you deal with those worries?
Further reading:
We are a participant in the Amazon Services LLC Associates Program, an affiliate advertising program designed to provide a means for us to earn fees by linking to Amazon.com and affiliated sites.