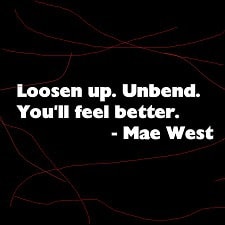 2016 Update: We still stand by the advice below on dealing with post-interview anxiety — but you may also want to check out our latest discussion on how to focus on work (when your thoughts are elsewhere). 
Reader M had a question about post-interview anxiety, something I notice coming up in the comment threads a lot…
I had a second round interview this week, and I'm waiting to hear back. The job is working in-house for a big company. Their legal team is spread throughout their offices, so my first interview was with HR, then my second interview was with their VP Legal Counsel and another Senior Counsel attorney. I think it went well, but I'm so anxious. My first question is what to do with anxiety while waiting to hear back about a job? My second question is if anyone has stories from successful interviews that might shed light on whether or not it went well.
The wonderful thing about interviewing for jobs outside your own company is that they have no idea what a stressball you may be after the interview. (Of course, for jobs inside the company you have to keep your cool, which is even tougher — but hopefully less stress-inducing given that you can "read" the personalities better and they know you better.) There are two interesting questions here: what to do to ease anxiety, and how to know if an interview went well.  I'll take the second one first.
How to know an interview went so well that you'll get the job: You can't. Unless you know the interviewer (or the interviewers), you really won't have any idea if things went well. I've been on some interviews that I thought went laughably bad (and then was offered the position) and some that I thought went over-the-moon great (and then didn't get the position). (I fondly remember one interview, during interview week at law school: I sat down, prepared to talk about the law firm, and was shocked when the interviewer said "Yeah, so, based on your first year grades and the fact that you're on law review, we're going to extend an offer. Can I answer any questions you have?" — couldn't they all be so easy?) But interview success depends on that fine mix of who else is interviewing for the position, what the company is looking for (which may be something as simple as "someone different than the last person to hold this job" in ways that you can't really identify), what MOOD the interviewer is in, where they are in the interview process (too early and they may not have figured out what they want; too late and it may just be a polite gesture). So how do you handle interviews? You focus on what you can control: you. You give the best interview you can, you prepare as much as you can, you follow up to the extent that you feel comfortable (there is a wide spectrum, on both sides, of what is "go getter" versus "pushy") — and you let the cards fall where they may. It isn't necessarily a personal reflection on you if you don't get the job.
But all of this is easier said than done — the anxiety after an interview can be intense. We've talked about ways to relax before, and now might be a great time to reopen that discussion.  I think general stress is one thing, but I think of anxiety as really strong stress that is triggered by one particular situation or one thing, which you probably can't do anything about.  Personally, I do the following kinds of things when I'm anxious:
– Exercise. A walk, a run, a good aerobics workout — it's amazing how I can feel my shoulders and neck "unlock" in the middle of the workout. You carry so much stress with you, and you don't even realize it.
– Make dates with a lot of friends. This way you keep occupied enough that you don't dwell on the anxiety too long, and by seeing a lot of different people you won't drive any one person crazy with your own anxiety. In my experience, I've found that friends have to be very, very close to sit through more than 3 conversations about the same stress points, especially when there a) is no clear way to resolution, or b) they've suggested things to handle the situation (more appropriate where it's boyfriend- or family-related stress) and you haven't taken the advice.
– Brain candy. When I'm stressed, I find that focusing my full brain power on anything else seems impossible. So I turn to things that I call brain candy — reality TV shows (America's Next Top Model is a particular favorite — so many of the contestants are unintentionally hilarious) or easy-to-read books that are well-written but lurid enough to suck me in. I just devoured (again) Julia Quinn's Bridgerton series
, and Charlaine Harris's Sookie Stackhouse mysteries
always capture my attention. I particularly find that these books are great before bedtime, because they get my mind away from things that are stressing me out.
– Make lists. Maybe I'm alone here, but lists sometime help me solidify my thinking. I've used them to nail down what I'm worried about (you'll be amazed at how the list goes on once you start writing them down), and to make pros and cons lists to remember that there are both pluses and minuses to getting the situation.  I find that lists are also helpful to realize that some of the thoughts in my head can be kind of silly when I'm stressed — for example, write out "this one job will make or break my entire career" — see, doesn't that look fairly silly? (This isn't to say that there aren't hugely important, singular opportunities — things like a Supreme Court clerkship, for example. But those are few and far between, and if you have gotten to the interview point on something like that, your career already sounds golden.)
– Sleep. Everything looks better in the morning.
– Avoid anxiety loops. Every so often, I let myself get overwhelmed by stressful, anxious thoughts, and I go into what I call "loops" — StressPointA takes me to slightly-related StressPointB which takes me to slightly-related StressPointC (and so forth) which leads me back to A. When I find myself caught in a loop, I can't actually make any decisions or come to a helpful point of view — I just get panicked and frenzied, leading to sleepness nights and totally unproductive days.  Avoiding the loop is critical — getting enough sleep (see above re: brain candy and exercise), keeping occupied, etc.  I also try to avoid too much "alone in my head" time when I'm in one of those moods — I once broke down in tears in a yoga class because my brain was looping.   (Once you're in a loop, well… a glass of wine may help you ease up or cause you to loop further; it really depends on you and the moment. If you find yourself frequently in this situation, talk to your doctor because there may be a prescription that can help, either on a sometimes basis or an every day basis.  Be careful, though: anxiety drugs can be very addictive, so don't borrow a friend's pill — talk to your doctor about them, and follow his or her instructions.)
Readers, what do you do when you're trying to relax from anxiety, either from a job interview or from a particularly stressful situation? And, do you have any fun interview stories to share — times you knew you nailed it, or wondered how it could go so wrong?