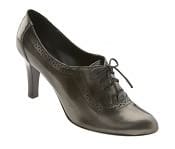 Today's reader mail has to do with shoes…
I am going to be a summer associate in a couple months in a large New York City law firm. I also have been secretly drooling over women's oxford style shoes in the last few months. My question is are these shoes appropriate or do I stick to basic pumps for summer associates? What about as a first year attorney? If so, would they ever be appropriate with a skirt or only with pants? Thanks!

This is a great question, as the style seems to be on deep discount at a lot of stores (including the pair featured above, on sale at Nordstrom for $65: VANELi Ipswich Oxford) For our $.02, the shoe pictured above is totally appropriate for the office — with the higher vamp, it's perfect for girls who have a slightly hard time walking in pumps — and it's great for getting a more comfortable shoe that still has a great heel. (We own the Born oxfords, pictured at right — very comfy — available at Zappos for $102: Born – Pace/a>.) That said, we believe our mother would call this a "nun shoe" — unless the oxford has 4″ heels and looks very fashionable, you will feel a bit less attractive if you wear it with skirts. Does it mean that makes it somehow inappropriate for the office? No. But it just might not be the look you're going for.

Now, on a related note, there are some oxfords that expose toes — we would argue that these are inappropriate for the office. We're not big fans of open-toed shoes at the office anyway, but to have the entire foot encased in leather and then an unexpected flash of toe… it's a fashionable style that's supposed to be naughty and cheeky. We would not advise you to purposely dress to be naughty and cheeky at the office. Just our $.02, though.
Readers? Care to weigh in?