It's easy to find a cheap pair of pantyhose on the fly, for those situations where it's an hour before the big meeting and you realize you've got a run. But quality hosiery usually requires a trip to a department store, which just may not be in the cards when you're slammed with work — part of the reason I started this blog was because I was always working when stores were open! Hoseanna, a new site, is launching today, and it aims to help working women everywhere get the pantyhose, nylons, and tights you need, on your schedule. Because you can make a one-time purchase or sign up for a subscription (every month, every two months or every three months), you can even put pantyhose on "autopilot" — it'll show up when you need it, and you can cross it off your already massive to-do list. Their curated collection includes some brands that are new to me, including b.ella, Foot Traffic, Pretty Polly, and Boottights, as well as brands that everyone would be familiar with, such as Hue, DKNY, and Silk Reflections. Also, note that the first 250 women to register on the site will receive 25% off all purchases throughout the year + 1 month free shipping. And, through a fun giveaway going on now, 4 people can win a full year-long subscription to Hoseanna and a style makeover (details below!)
I recently had the pleasure of meeting Hoseanna's founders, Tracey and Katrina. I loved both women (they've been friends for years and have walked in our shoes, ladies — both of them had successful corporate careers before they went into business together!) but I also loved the idea behind the site:  that while yes, sometimes women like to browse, a lot of times you just want CONVENIENCE when you're shopping. Especially for busy, working women, you don't want to have to spend your one free hour of the week to run to the department store to pick up a few new pair of hose.
I'm honored to be a Hoseanna brand ambassador alongside these leading ladies in the blogosphere :
The Marathon Mom –Nichelle Pace from Style Mom
The Corporate Vet – Natalie MacNeil, She Takes on the World
The Uniform Diva –Sara Keagle from The Flying Pinto
We'll all be filling out some fun questionnaires on Monday, so stay tuned!
Now about that giveaway I mentioned — Do you want to experience Hoseanna for yourself? Four lucky winners will win a free one-year subscription to Hoseanna! Each winner also wins a virtual style consultation with My Style Pill's Christine Cameron to help build your best work wardrobe. Total prize packages value: $500. It ends on April 10th so enter today by heading over to the Hoseanna Facebook page. Don't forget to give them a "like" while you're there!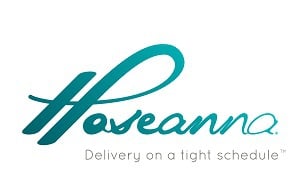 Readers, what are your favorite pantyhose brands? What other regular purchases do you make that you wish you could put on autopilot?