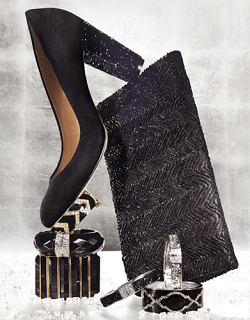 With Thanksgiving out of the way, it is officially holiday party season — which means that it's time to perfect your desk-to-dinner shuffle, if you haven't already. For me, separates have always been the way to go — that way you don't have to change your entire wardrobe before you go out after work, and you only need to carry one or two additional pieces with you to the office. Maybe it's just me, but separates always feel more "true" to me — more like a "dressed up, sparkly version of me" and less like "Kat's pretending to be a glamorous jet-setting party-goer!"
I think shoes are a great way to add a bit of sparkle to your outfit, and I love these black Suede Perfect Block Heels. Wear them with jeans or long trousers for just a pop of sparkle… or wear them with ankle-length pants or a skirt for a lot of sparkle. They're $168 at Ann Taylor.
I had a lace tee like this (coincidentally, also from Ann Taylor) during my dating heyday — I wore it out a LOT, usually with jeans. I like that this one would look nice beneath a blazer for the day — with just a hint of the lace peaking out — and then you could remove the blazer to go a bit more bare during a date, a night out with a friend, or a party. It's available in black and white, XXS-XXL, in regular and petite, for $54.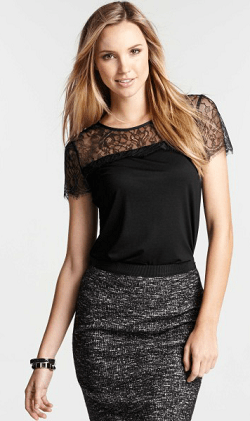 What fun! I love this fringe skirt — it reminds me a bit of Jazz Age flappers, but it also looks really flattering and like it would easily fit into the rest of your closet. If there's any dancing on your calendar this holiday season, I highly recommend this skirt. As it's styled here, with dark tights and matte suede shoes, you can see how easy it would be to wear an otherwise normal work outfit to work and then put this on right before you head out the door. Lovely. It's $128, available in sizes 00-18, regulars and petites. (Do note, there is a fringe tank counterpart, which I also really like and could see working well with "party pants" — a jacquard or velvet skinny ankle pant, or even a waxed jean.)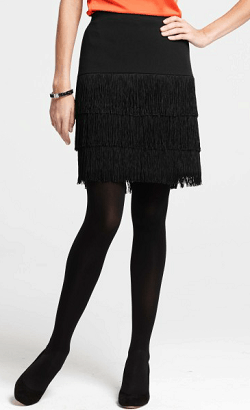 Come on, you guys knew I had to choose a festive blazer — and I love this stretch velvet blazer (available in purple, black, and camel, and with a matching skirt). I think it's the perfect thing to wear to a staff holiday party (perhaps with an even more festive piece such as the others in this post) and — if you're layering on top of sequins (sequin skirt or tank), the velvet blazer will hold up much, much better than, say, a cashmere cardigan. Love it. This one is $158, available in sizes 00-18 for regular, petites, and talls.

Finally: I love this softer lace cardigan. I actually quite like the way it's styled here — with a flowy pleated top belted beneath it — but I can see it looking great over a sheath dress with a statement piece or two (necklace and cocktail ring, perhaps). It's $78, available in regulars and petites, sizes XXS-XL.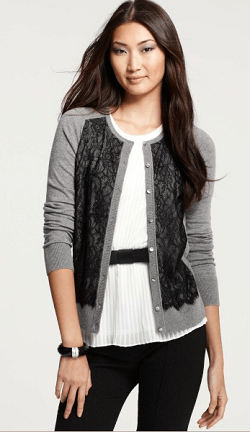 Readers, what's your favorite piece to go from desk to dinner, either in your closet currently or from these Ann Taylor picks? Do you agree with me that separates are the way to go, or do you prefer to change your entire outfit?
Disclosure: This post is sponsored by Ann Taylor.