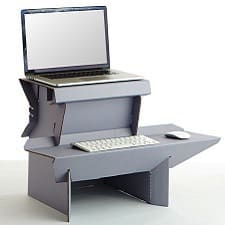 2020 Update: Our more recent recommendation is $37 and also available at Amazon.
This standing desk is only $25, and it's gotten pretty good reviews. It's certainly not much to look at — it's sort of an ugly little thing — but if you've been thinking about ergonomics at the office and starting to stand while you work, you can't get cheaper than this. You can use a laptop or a iPad along with a Bluetooth keyboard, and it can even hold a regular monitor. There are three sizes according to the user's height: small (under 5'4″), medium (5'4″ to 5'11"), and large (over 5'11"). The Perfect "Start Standing Now" Standing Desk
This post contains affiliate links and Corporette® may earn commissions for purchases made through links in this post. For more details see here. Thank you so much for your support!