2017 Update: We still love these strappy pumps to wear with tights to work, but you may want to check out our new roundup of sleek strappy pumps for the office!
Sure, we all know what basics professional women are supposed to have in their closets, but if you're buying one for the first time or replacing one you've worn into the ground, it can be a pain to find exactly the right incarnation in stores. In "The Hunt," we search the stores for a basic item that every woman should have.
If you've got narrow heels like I do, tights can be a problem with classic pumps — shoes I was fine with while barefoot always seem extra hard to walk in while wearing pantyhose or tights.  Still, after a certain point in autumn, bare legs just look silly, no matter how warm your body runs. My solution for a conservative office has always been to wear pumps with straps for most of the winter.  Now, of course, booties are so popular you may be able to wear those instead for all but your biggest days (know your office!) — we've rounded up some of the sleeker bootie/pump hybrids in bullet points below. Still, for those of you who prefer the sleeker look of strappy pumps, I thought we'd feature a few best selling styles and some current picks.  Readers, what shoes do you wear with tights in the winter? Are you on Team Bootie or Team Strappy Pump (or both? or neither?) Bought any great ones recently?
Some special interest categories (and those bootie/pump hybrids we mentioned):
Some of the best selling styles (we mentioned above include):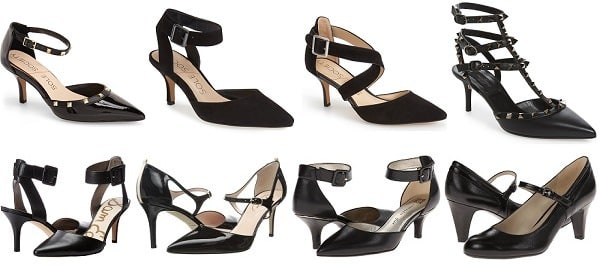 Bestsellers row 1: 1 / 2 / 3 / 4
Bestsellers row 2: 5 / 6 / 7 / 8 
* If you have wide feet, check out our roundup of workwear brands making heels for wide feet. Curious about previous roundups for strappy flats? Here are our favorites from 2015, 2014, and 2012.
In addition to the best-selling styles pictured above, some of our favorites that are new to shelves include:
Ooh: these black heels are only $59, have no buckles or straps (great for slipping on quickly), have a ton of great reviews, and come in seven colors, sizes 5-11, regular, narrow, and wide sizes. LifeStride Seamless
These shoes are best sellers at Zappos, and I can see why — they're walkable, sleek, and affordable.  (These $99 Naturalizer pumps look very similar but in a leather instead of a "velvety microfiber upper.") They're available in sizes 5-11, in regular and side sizes. Rockport Sharna Cross Strap
I love these kinds of hybrids of oxfords/booties/pumps, and these Kate Spade shoes are the perfect example (we've rounded up more in the bullet points at top; if you really prefer more of an oxford style these Clarks look great for only $105). The shoe is $328, available in three colors, sizes 5-11. Kate Spade New York Davie
OK, velvet isn't great for running around in the rain or slush — but these are perfect shoes to keep at your office. The pros: velvet is H-O-T this fall, with velvet touches popping up everywhere. We all know I have a thing for purple pumps for work. And the Campy Mary Jane heel has been around for years now; it's a classic Manolo style.  The cons: it's $745, and if you like matching your tights to your shoes, you may have issues with this one. (Also in this price range — the Valentino Tango pump is gorgeous (also pictured in collage at very top); this Nine West pump is a pretty good dupe.) Pictured: Manolo Blahnik 'Campy' Velvet Pump (Nordstrom Exclusive Color)
Like this feature? Check out other recent installments!