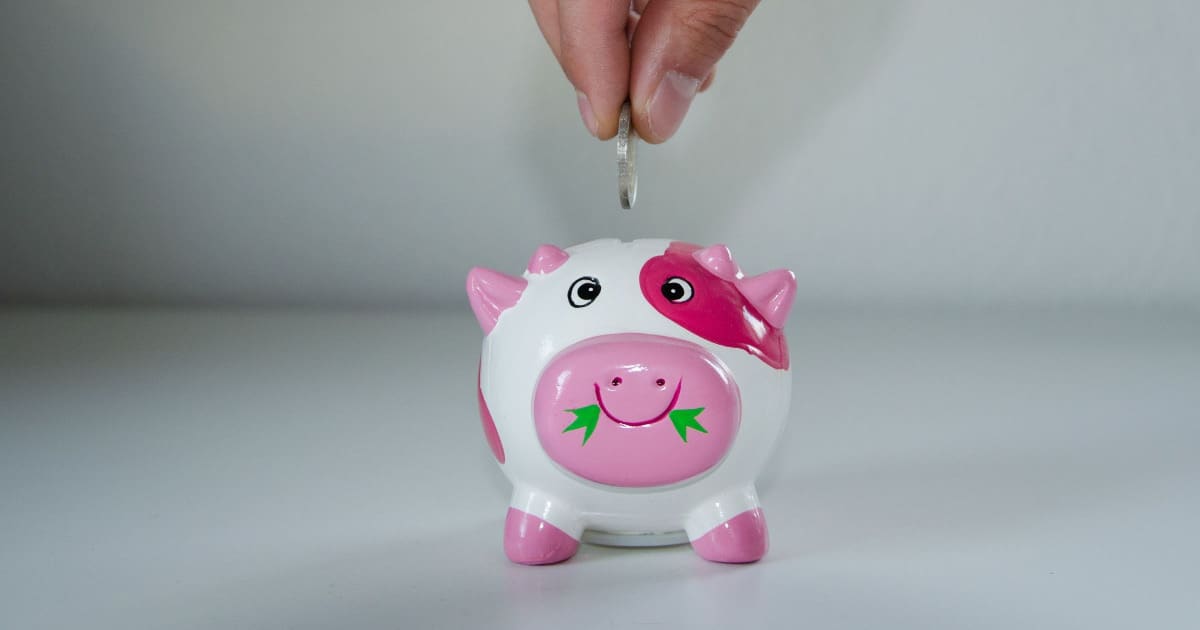 Reader L has a question: what are our best tips for saving money on lunch? Even if you eat out all the time, there are still some smart money strategies…
Here's her question:
Could you perhaps do a post on bringing lunches to the office versus going out? I'm new to the 9-5 world, and eating out every day seems so expensive, but I don't really know how to pack a lunch that will last me the entire workday.

I don't want to keep snack food in my desk because I don't want to attract rodents, or eat mindlessly all day. It's also difficult to say no when new co-workers invite you along for a frozen yogurt or coffee run – it's adding up. How do you generally handle lunch during the work week?
We've talked about this a few times on this blog — how to eat to fuel your energy throughout the day, how to avoid gaining weight when you're eating out a lot for recruiting season, how to diet at the corporate gig, what to eat when you have no time to eat, and what foodstuffs I consider "office staples." I don't think we've talked about it from a finances angle, though, so let's do that.
Let's start with the proposition that it is always going to be cheaper to bring your own meal from home. Healthier! Better! Et cetera, et cetera. I will also say that for those committed to couponing, cooking, and hunting out the best deals, inSANE insane deals can be had — this post on "Eating Well on One Dollar a Day" impressed me beyond end, for example.
But let's also assume that if you had the time and energy to make that healthy, low-cost lunch every morning, that you wouldn't be writing to us for advice.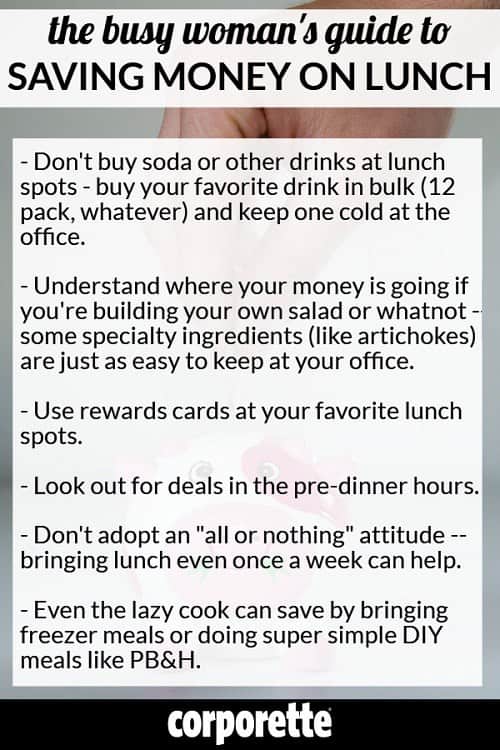 Saving Money on Lunch: Drinks
That said — the easiest way to cut expenses is to focus on what you're drinking. (Warning: These prices are based on my experiences in Manhattan — in less crazed cities the prices will, hopefully, be far less.)
In Manhattan, a can of Diet Coke can cost anywhere from $1-$2.50. If you get one every day for lunch, for 50 weeks out of the year, you're spending at least $250 a year on soda at lunch. You could switch to tap water instead, or — if you're like me and need a caffeine boost in the middle of the day — you can buy your own soda to keep at the office.
Sometimes you can find the 12-can boxes on sale — two for $6 is the best I think I've seen — but even at the normal price of $5.99 per box, that's a far cheaper can of soda (about $.50), and you automatically save 50%.
Similarly, a love of specialty coffees like Frappuccinos can be an expensive habit — if it costs $4, and you drink it maybe 3x a week for 45 weeks of the year (just random numbers here) — that's $540. Switching to plain black coffee, or bringing your own coffee, makes it far less.
Saving Money on Lunch: Food
Understand where your money is going. For example, NYC is filled with choose-your-own-salad lunch spots, and adding a protein to salads often increases the price by $2 or more. So if you cook a batch of chicken over the weekend, or even just slice up deli meat to put on top of the salad, you're automatically decreasing the price.
Work your favorite spots. A lot of lunch places offer "rewards" cards — buy 10, get 1 free — that can add up to a significant discount over the long haul.
Look out for deals in the pre-dinner time from 3-6. For example, a lot of bakeries will offer a 50% discount on breads and pastries in that time period — I've even heard of frozen yogurt places doing the same. Just heading out with your friends at 3:30, rather than 2:30, could save you money.
Psst: hunting for stylish office lunch containers that are also eco-friendly? Some of our favorites (Sistema containers, Thermos food jars, and this classic bento) are pictured below — also check for cute lunch bags from Modern Picnic, Artelaris, Kate Spade, and Built NY! (If you're working from home, we love glass containers from Snapware and Anchor Hocking.)
This post contains affiliate links and Corporette® may earn commissions for purchases made through links in this post. For more details see here. Thank you so much for your support!
Don't adopt an "all or nothing" attitude. Even bringing lunch once a week can help immensely with the expenses — if your average lunch out is $8, bringing it from home just one Monday a week for 50 weeks is a savings of $400.
Even the lazy cook can save. I see cans of soup marked to around $1.50 at the supermarket pretty often — stock up, those are great if you have access to a microwave at the office (and easy to grab as you're flying out the door in the morning). Similarly, a guilty pleasure of mine is a Lean Pocket (they do have whole grain ones, though!) — and when I see those on sale for around 2 for $5, I stock up.
With two Lean Pockets in each box, that's 4 different lunches (or at least hearty snacks) for about $1.25 each — not bad. And let's face it, I've known a zillion busy women who kept their offices stocked with a jar of peanut butter and a box of crackers — both for cost savings reasons, as well as the I'm-too-busy-to-eat syndrome.
Readers, what are your tips for saving money on lunch at work? Do you bring your own lunches to work, get smart about takeout, or do something else?
2021 updated social media images (piggy bank) via Stencil. Original image (2010): It Was on Sale, originally uploaded to Flickr by Kimli.