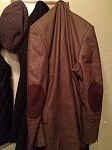 What do you do if the elbow of your suit jacket ripped? Reader K has a great question…
I just had the elbow of a blazer (mid-price point Club Monaco suit) tear. What do you suggest I do? Can I put elbow patches on it and turn it into a casual piece for Fridays? It is about a year and a half old, so it is unlikely I will be able to return it.
Hmmmn. Hmmn. This one has me stumped. I have never had an elbow rip in all my years of wearing blazers — so this may be a problem with that specific garment you bought. A few ideas:
First, contact the company. They may offer to put on the elbow sleeves for you, offer you a new blazer, or (one hopes) at least offer you a sizeable discount on a new blazer. (Here's an interesting blog post from the blogger at The Post-Grad Blog, who — when her J.Crew blazer ripped — had them offer to first put on elbow patches, but who then wrote to the president and got the entire jacket replaced.)  According to the Club Monaco website you can call a customer service representative at 1-888-733-6410. Some tips before calling:
a) Find whatever information you have about the order before your call. If you bought it online and can have your order # handy, that would be helpful. If you bought it in the store, try to check your credit card statements for the date of purchase, and the total amount you paid for the blazer.
b) I'm SURE none of us have ever lost our temper on a customer service call, but I'll say it anyway:  go into the call determined to be polite (and to have your own way).
c) Very politely, explain the problem — how highly you previously thought of their products and their quality, and how disappointed you are to have the elbow rip after just normal use. (I'm assuming this all is true. If your sleeve ripped after an arm-wrestling competition or after you took rubbed the sleeve on sandpaper or something, well, you may be partly at fault.)  What can the customer service person do for you?
And then I'd wait to hear what the options are. I would hope the company would offer either a) elbow patches/repair or b) a sizeable discount for a new blazer. (I would push for at least 30%, if not more. Ask what the discount is for store employees, and if you can get that.)  If it's really whiz-bang service, you might get a new blazer out of it. If they can give you NOTHING, then you can do one of 3 things:  1) ask to speak to her manager and start the process over, 2) end the call and take the blazer to a store and try it with the customer service person there, or 3) file this information in your brain under "Stuff to Think Twice About Before Buying."
Second, take it to a tailor.  Ask him or her whether they can repair the tear so it isn't noticeable — they may be reweave the fabric (or something; I'm obviously not an expert here) in a non-noticeable way. Failing that, consider elbow patches. If it's truly a suiting blazer I don't think elbow patches will look right, but it's hard to tell without seeing the exact blazer. Before the tailor does anything, ask him or her how much it will cost, and if she recommends it. For example, if the other elbow sleeve is worn through, or other parts of the blazer are showing wear, you may just be throwing good money after bad. As the commenters would say, "just say fooey and move on" (aka JSFAMO).
If you're in a DIY mood, you could always try it yourself — this video tutorial may help.
Readers, how often do the elbows in your suit jackets tear? Do you reinforce them with elbow patches, or is there another fix to this? 
Pictured above: Elbow patches on my jacket, originally uploaded to Flickr by chrisfreeland2002.