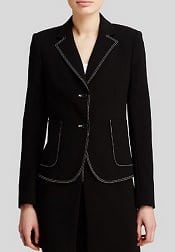 For busy working women, the suit is often the easiest outfit to throw on in the morning. In general, this feature is not about interview suits for women, which should be as classic and basic as you get — instead, this feature is about the slightly different suit that is fashionable, yet professional.
If memory serves, August is always a bit dead for suits — the boring and bad ones sit in clearance, and the new ones haven't been brought out yet. So this week's pick is a bit of a mixed bag to me — but hey, maybe it's perfect for someone else. The pros, as I see them: this is a lovely black shift dress and matching blazer made from "Admiral Crepe," which the Theory website describes as being a "super-smooth fabric with excellent drape." I like the look and the cut of both pieces, very much. EXCEPT: the armholes on the dress (as seen here)! Why?!?!?!? If you, for some reason, are up for either a) letting your bra show whenever you lift up your arms, b) wearing your blazer or a sweater all day anyway, c) wearing a camisole (or other blouse) beneath a dress with a high neckline, or d) taking the dress to the tailor for an added expense of adding some fabric or zipping that bit up… then this is the dress for you. It is a kind of sexy look, I'll grant Theory that — but to me it just ruins an otherwise perfect sheath dress. Sigh. The dress (Minaeon Dress) is $325, and the blazer (Ornella Blazer) is $395. (Note that Theory has many pieces in this fabric.)
There doesn't seem to be much out there that's similar, but here are a couple of lower-priced alternatives for the jacket (one, two).