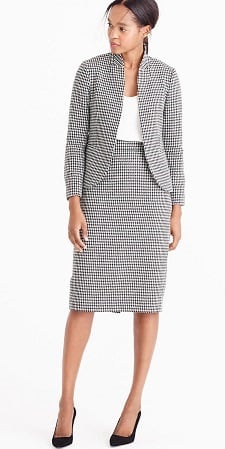 For busy working women, the suit is often the easiest outfit to throw on in the morning. In general, this feature is not about interview suits for women, which should be as classic and basic as you get — instead, this feature is about the slightly different suit that is fashionable, yet professional.
Oooh: I'm kind of loving this houndstooth suit from J.Crew, either worn as a suit or as separates. I was just pondering what to wear with houndstooth these days — I think red can be a bit played out, so I've settled on "Tumblr pink" as being a more modern look (like this blouse). The jacket (Lady Jacket in Italian Confetti Houndstooth) is $198, and the skirt (Pencil Skirt in Confetti Houndstooth) is $110; take 30% off a purchase of $200+ with code SHOPMORE.
Looking for a plus-sized version? Check out this one, on sale (blazer, skirt).