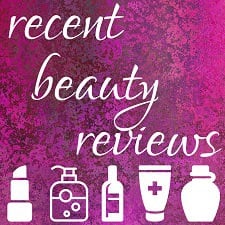 I've recently bought a bunch of skincare and beauty items (many recommended by readers in our "beauty empties" post!) and I've been working through a bunch of them, so I thought I'd share my reviews!
(We're also working to update the "beauty empties" post to include a roundup at the bottom of the post of things at least two readers swore by, along with links to places where you may want to buy them.)
Readers, did you try any new beauty products in the recent Black Friday/Cyber Monday sales (and specific beauty store sales like the big Sephora sale?) What are your reviews?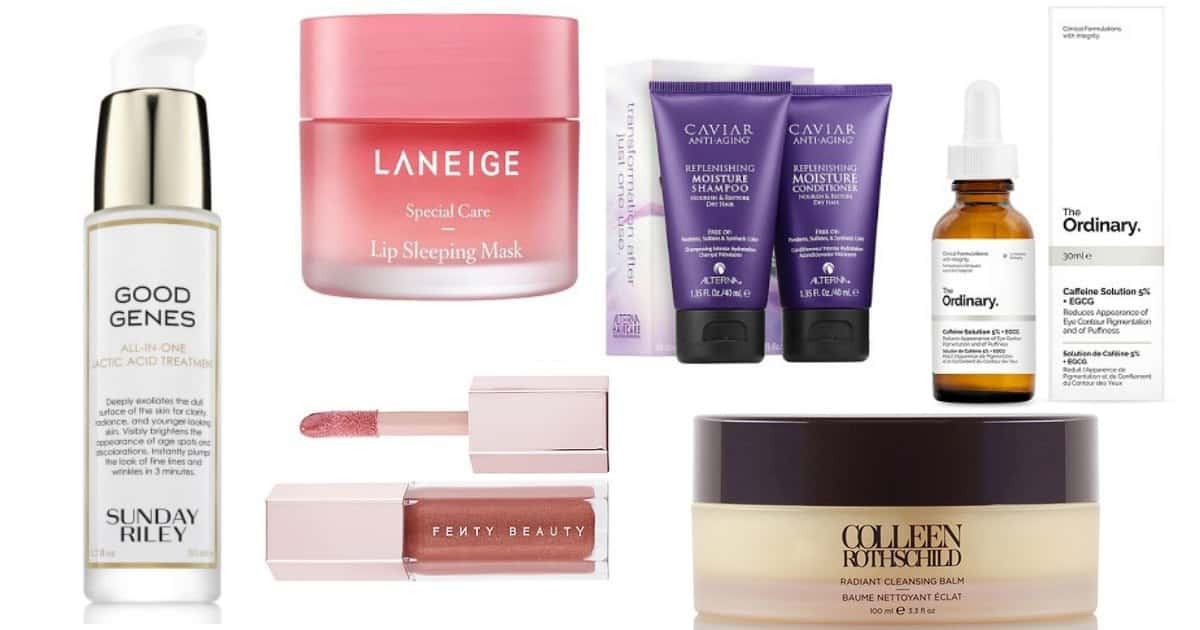 This post contains affiliate links and Corporette® may earn commissions for purchases made through links in this post. For more details see here. Thank you so much for your support!
Good Genes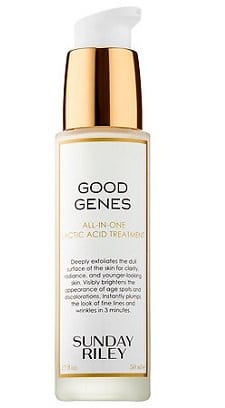 was, without a doubt, the number one thing I was excited to try after hearing all the readers rave about it! It's been years since I've used a chemical exfoliator and my skin, since my kids, as been very dry. This lack of a chemical exfoliator was in part because during my first pregnancy my OB/GYN suggested I use only natural skincare, and you just don't find really strong acids like this in the beauty aisle at Whole Foods — and then, after I was out of the pregnancy corridor and bumped my skincare regime up to include retinols, I wasn't totally sure how to use serums and exfoliators WITH retinols. (My current solution is to take a night off from my retinol creme if I'm using another serious product, although I've read you can also just wait 30 minutes or more between products.) Verdict: Readers said Good Genes was lifechanging, that with a single application their skin was smoother and had a glow. I would agree with both of these things. But the minor downside for me is that if I use Good Genes too often my skin has SUCH a glow that I suddenly feel like I need powder again, which I haven't used in at least five or six years. So my current plan is to dial my use back to once or twice a week — and considering the shelf life of lactic acid can be pretty short (I saw one roundup that said a few months!) I'm considering whether I want to return the full-size bottle I got for a smaller travel-size bottle as part of another set like this one from Nordstrom. A 1-oz size is $105.
THE ORDINARY Caffeine Solution 5% + EGCG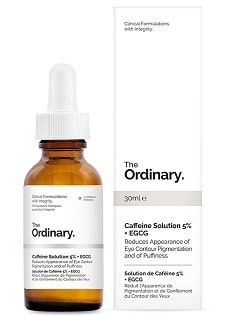 . I've heard great things about The Ordinary, so when I saw readers singing the praises of their caffeine serum for eyes I thought, maybe that's just what I need. I was kind of blown away by how inexpensive the brand is — the caffeine serum is a mere $6.70 at online shops like The Ordinary and Beautylish. I actually got mine through Amazon where it was more expensive, but didn't require me to fill out new credit card info which, hey, is sometimes a plus. Verdict: I just got this one a few days ago and I like it. It doesn't do anything for the circles under my eyes, but it does feel like my eyes get depuffed more quickly than other eye creams. Because it's a serum, not a cream, you may want to layer another eye cream on top, or you can just use your regular moisturizer. I probably will not use this at night, but so far I really like it for the mornings.
Someone else mentioned that Colleen Rothschild Radiant Cleansing Balm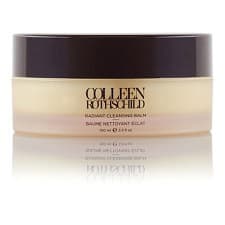 was a must for them, and I remembered I had an (admittedly old) box of it in my closet from attending a blogging conference, so I thought I'd give it a try. The idea is that you scoop some of the balm on your hands, rub them together to warm the balm up, spread the balm over your face, then wet a muslin cloth with warm water to scrub the balm off your face. Definite verdict: The muslin cloth is definitely a hit, and after reviewing this article on Into the Gloss about the best washcloths for your face, it sounds like I'm not alone – I'm going to try to buy a few muslin / flannel / bamboo options and come back and review. That said: I can't tell if I like the "cleansing balm" or not. What I like: I haaaaate washing my face first thing in the morning, and this is a MUCH more pleasant experience to rub a nice-smelling balm on my face — and I get a little mini exfoliation with the muslin cloth (I usually just splash water at my face). Meh: The scent is VERY lemony, which I think I'm OK with but I could see being a problem. Bottom line: I'm not totally sure how "cleansed" I'm getting — since the main reason I wash my face in the morning is to remove the retinol and other sun-sensitive nighttime things from my face, I'm not sure how much I like leaving it to chance. (I so detest washing my face that I once asked my dermatologist once if I could use micellar water instead — "sure," she said, "but you might get blocked pores." So I may go back to washing with something nice and foamy on the nights I use retinol.) I could also see this being very similar to "cleansing" with coconut oil, which is a far more affordable thing. (I should also note that for some reason I hate spending money on face wash since I feel like it's possible to get great face washes for drugstore brands — that said, I'm kind of between them right now. I don't love the CeraVe face wash I currently have in the shower. I liked the TonyMoly Magic Food Banana Cream Foam Cleanser I had before that, but not enough to repurchase. I like the Glossier Milky Jelly I have by my sink but didn't think it was earth shattering or anything. I've tried other face washes through my Ipsy subscription and other random samples and they've all kind of been meh. Readers, any favorite face washes?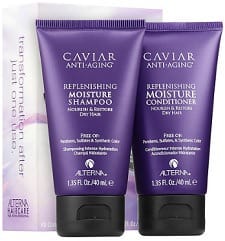 I bought a travel set of the CAVIAR Anti-Aging Transformation Moisture Duo to give this shampoo and conditioner a try. I'm a huge fan of Alterna products anyway — they smell nice and work well with my hair. Verdict: I've washed my hair with these once and noticed a HUGE difference in softness afterwards. Also, to be honest, a bit of limpness that comes with more moisturized strands. I'll probably save these for once or twice a month use, at least until we get into the dead of winter, but I'm definitely glad I bought them.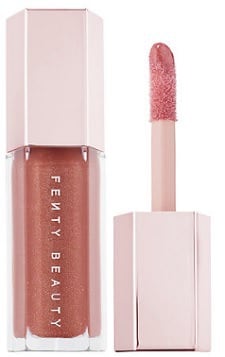 Various Fenty products. I bought a bunch of Fenty products because I keep hearing amazing things about them. Fenty Reviews: I'm keeping the Gloss Bomb Universal Lip Luminizer (pictured)– it's a nice basic sparkly gloss that you can layer or wear by itself and isn't quite as sticky as some of the others I've had in the past. While I'm returning the Starlit Hyper-Glitz Lipstick (too sparkly for me), I will note that I think it's very similar to but better than Glossier's Generation G in that I like the consistency and color more. (I did not get the highlighter that everyone else loves because I feel like I'm set there. (I like Glossier's for everyday and Benefit's Highbeam for nighttime looks.))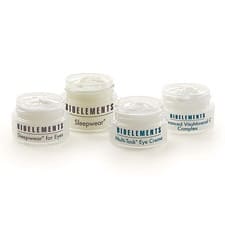 Various Bioelements products. This is the second or third year in a row that I've bought the "anti-aging travel set" from Bioelements, which usually gives me enough of a fix for Sleepwear, Sleepwear for Eyes, and Multi Eye Concentrate to last me for an entire year. (It also comes with an Advanced Vitamin C Complex, but personally I prefer my regular Vitamin C serum.) This time I also got samples of a bunch of other things (hooray for Cyber Monday sales), so I thought I'd share. Equalizer toner spray: like I said above with Laneige's toner, I haven't been a big toner user since my teenage years, where some blue, medicinal-smelling bottle (Noxzema?) was a regular part of my routine. That said, I like the Bioelements equalizer toner (and after the Rothschild cleansing balm I can see the benefits of such a toner!) but I'm not sure it's indispensable to my routine yet. I was excited to try the Quick Refiner for Eyes, which is a special serum designed for your eyes at night to help with wrinkles and lines. The first morning I woke up thinking my eyes looked worse than they normally do — but after I put on concealer I thought it went on smoother and blended better than it normally does, so maybe it did work. I'm still working my way through other samples — I'll keep you posted if I find any big hits.
These were some of the products I've tried recently — what have you tried?