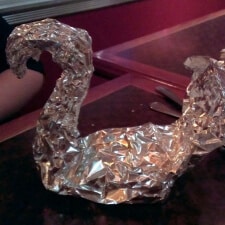 2017 Update: We still stand by this analysis of when you can take leftovers from a business lunch — links have also been updated below.  You may also want to check out our ultimate guide to business lunch etiquette.
Is a doggy bag is ever appropriate in a business context? Today's reader wonders what the etiquette rule is on whether she can take leftovers from her business lunch…
I was wondering if it's ever appropriate to get leftovers from business lunches or dinners wrapped up to go. The portion sizes at restaurants can be so large, and I hate having food go to waste (especially food from eating out!) but I am fairly junior and it may seem a bit much (as in grabby or greedy). Thoughts?
We agree, leaving leftover food is wasteful. However, we must caution against asking for a doggy bag (even if the restaurant will shape it into an amusing animal). You're right, it does sound slightly grabby or greedy — particularly because it's entirely possible to ascertain beforehand if the restaurant where you're dining is one that believes in large portions, such as by looking around the room or asking the waiter — which means that taking leftovers might leave the impression that you either a) ordered for dinner as well as lunch, or b) just are not very observant. Neither are good things for the business lunch. [Read more…]