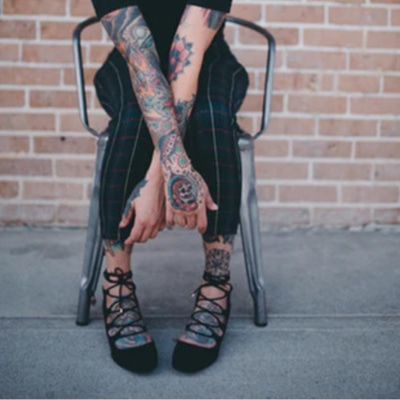 This post was last updated in January 2023.
Update: We still think this is a really interesting discussion on foot tattoos and interviews — but you may want to check out our more recent discussion on tattoos in the workplace.
Should you cover a tattoo for an interview? What if it's in a place that's hard to cover — should you go the extra mile just for the interview? Reader A wonders about her foot tattoo:
I am a 2L at a Midwestern law school and going through the interview process for next summer. I would like to build my professional wardrobe, but shoes always stump me. I have a tattoo across the top of my foot; a quote in black ink. I would like to cover it up for interviews and other conservative, professional events, but still look feminine, professional, and seasonal.

The compromise I have come up with is either wearing a pant suit with black leather booties or a skirt suit with black pantyhose and pumps. Either option is too hot for the summer and prevents me from wearing other colors.

Any advice for cute, professional shoes that would cover my ink and allow me to lighten up my wardrobe?
Great question, reader A! I was just talking with a reporter about looking professional with tattoos, and I'm surprised we haven't covered them since our interviewing with tattoo sleeves post a few years ago. In general, I agree with my old advice, which is that you should a) avoid getting visible tattoos in the first place, and b) keep your tattoos covered for interviews, big/first meetings, court appearances, and more.
Here's the thing, though: a foot tattoo is kind of hard to cover up easily. Something to keep in mind when interviewing is that a very conservative job may require you to keep a tattoo covered almost all the time — so consider beginning as you mean to go on.
By this I mean: If you're ok with taking the steps below on all but casual days (after you've gotten to know your office, of course), then great. But if this all sounds like a lot of work and you plan to wear regular pumps or ballet flats 90% of the time, you may want to consider just leaving the tattoo exposed during part of the interview process (such as the second round of interviews), since this will weed out a lot of fit problems with your future office early on.
That said — here are some solutions for covering tattoos that may work for you if you want to wear the most conservative, safest outfit choice for an interview — a skirt suit, nude-for-you pantyhose, and comfortable pumps or flats:
The Updated Option: If it's at ALL appropriate seasonally, wear booties!
If you're not comfortable in booties, or it's summer, try oxfords. I actually wrote this entire post (and hit publish, yay!) and then remembered, DUH, oxfords. I think a heeled oxford looks great with skirts (particularly A-line skirts), with tights or by itself, and they have the bonus of usually being pretty comfortable. You can even get nude-for-you oxfords if you look hard enough! These are probably the best compromise because a) they can be worn during summer months pretty easily, b) they still "read" conservative, and c) don't require a huge, regular investment in time or energy. I think an all-black leather version would be just as wearable — almost a vintage, 40s vibe, particularly with a lower/thicker heel.
Band-aids. Depending on the size and placement of the tattoo, a band-aid is another good option. Yes, you look like you have a band-aid on your foot, but hey, people get injured — there's nothing unprofessional or questionable about a band-aid. Bonus: a band-aid is easy to apply, and while they do move around sometimes, a new band-aid stuck to your skin (particularly beneath pantyhose, which you should definitely be wearing for interviews) is kind of foolproof.
Makeup. There are a ton of options for makeup (see below) and advice on the web about how to cover tattoos, including tips such as how long to let each layer of foundation set, how to blend it with the rest of your skin, and some shortcuts (such as using a lip pencil at the beginning to cancel out the darkness of the tattoo, and using a blow dryer with cold shots to help the products "set" between layers).
Tattoo removal. Tattoos say a lot about your personality (that you have one, what you got, where you got it, etc.) , and, as mentioned above, I hope you're proud of your tattoo and whatever it symbolizes. If you have tattoo regret, however, you can obviously look into tattoo removal or "tattoo reduction," which apparently makes it lighter so it's easier to cover up. I'm hoping the readers can chime in here with experience about what to expect with tattoo removal in terms of the physical experience, price, or results.
Mary-jane pumps or T-strap pumps (or flats). Depending on the size and placement of your tattoo, these may or may not be an option — and note that they may make any other attempts to cover up the tattoo (makeup, bandaid) move around, causing the tattoo to become uncovered. Again, a custom shop (like the ones mentioned above) may be able to help you make the strap wide enough and placed just where you need it. I'd suggest trying to create something with a thick strap and/or a lot of detail on the front of the foot.
Psst: if you're looking for body makeup, these are some of our favorites as of 2022…

We are a participant in the Amazon Services LLC Associates Program, an affiliate advertising program designed to provide a means for us to earn fees by linking to Amazon.com and affiliated sites.
Your idea of a pants suit and boots is ok, but know that a) that's going to read as less conservative than a skirt suit and pumps or flats, b) it may not be an option for fall interviews if it's too hot, and c) it's probably not going to be an option that first day of work in the summer (or for other big events in the summer where you would want to cover your tattoo) — so one of the above solutions may be needed at least some of the time.
Readers with foot tattoos (and other visible, hard-to-cover tattoos) — how do you cover them? Readers who've had tattoos removed — share your stories! As always, readers, please chime in — what would your advice be to someone with a visible foot tattoo for appropriate interview attire?
(Originally pictured: feather!, originally uploaded to Flickr by brynnycole31. 2020 updated images (young woman in pinstriped pants with prominent tattoos on her feet) via Unsplash/@kalvisuals.)