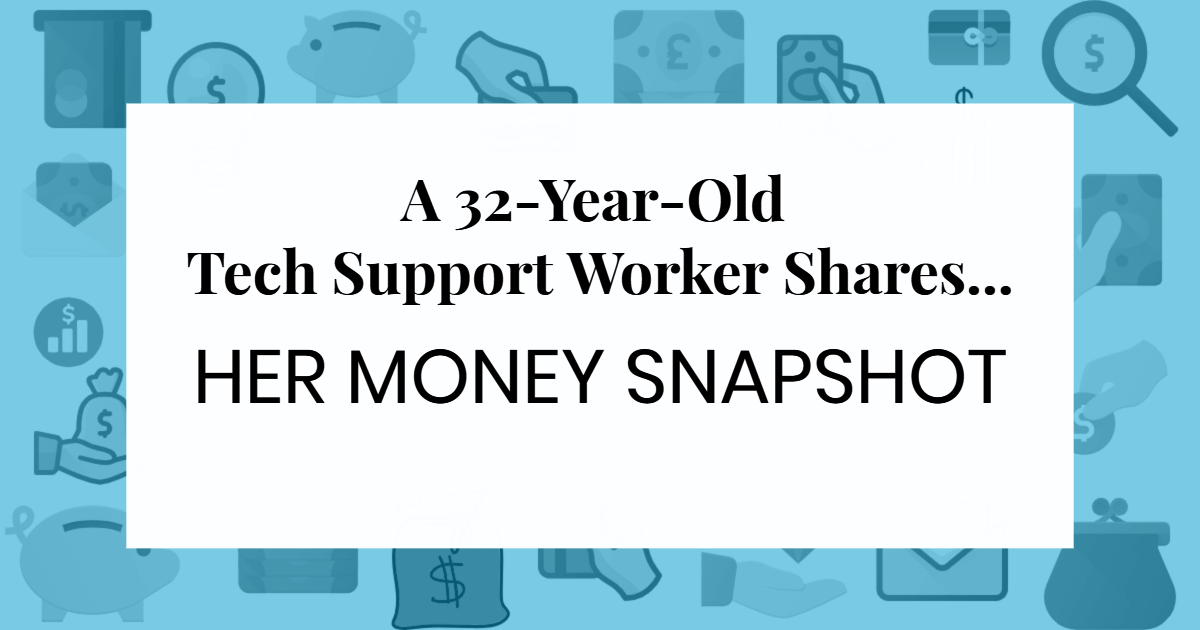 Presenting our fourth "money snapshot," this time with a tech support worker in Kansas! She notes: "Our decision to move from L.A./Orange County to Kansas City … [has] been probably the biggest factor in allowing us to improve our lifestyle and financial standing. When I told one Californian friend what I paid for my 3BR house, she literally fell over. It's an enormous difference for the cost of living."
By way of background: We got a few requests from readers to launch our own "money diary" series, so we've asked willing readers to fill out a form with lots of details about debt, spending, saving and more! If you'd like to fill out the form and be considered for a future personal money snapshot, please click here to submit your response! You can see a PDF of the questions if you want to review them ahead of time. See others in the Personal Money Snapshot series here.
Please remember that this is is a real person who has feelings and isn't gaining anything from this, unlike your usual friendly (soul-deadened, thick-skinned, cold-hearted, money-grubbing) blogger — so please be kind with any comments. Thank you! — Kat
Name: Aerin
Location: Overland Park, KS (suburb of Kansas City)
Age: 32
Occupation: Tech support worker
Income: $58,300
Partner's age: 37, works as a technical trainer
Household income: $115,000
Net worth: House is worth about $190K, have about $55K in retirement/savings. My husband also has savings accounts; don't know his totals.
Net worth when started working: My very first job was babysitting at 14, so I didn't have much net worth one way or another. I graduated college at 23 with about $11K in student loans and $5K in credit card debt.
Current debt: $1K credit card, $4K on car, $1K student loans, $138K balance on mortgage, $25K on personal loan
Living situation: Own, pay $1,100 mortgage
Is there anything else we should know about you?
Personal loan was to consolidate credit cards and financing for a major home repair, plus a bit of a slush fund for further home improvements. That total also includes the financing for our bed, which we got at 0% interest.
Also, my parents and I were in a commercial when I was a baby, doing one of those customer testimonial things. Commercial money is kind of insane, because you get paid every time it airs. I had to pay taxes as an infant! That money helped set up savings accounts for me and my siblings, and was the seed of what my parents later contributed toward a down payment for my house (about $5K by the time I cashed it in).
Debt
What does your debt picture look like?
I have some student loans, not a ton. My husband has more, but he handles that separately. I ran up some credit card debt in college due to some emergencies/large expenses that took me a while to pay off. Recently I had to carry a balance on one of my cards due to a large vacation.
How much money are you spending each month to pay down debt?
$100–$200 for credit card beyond regular use (see below), $70 for student loans, $177 for car payment, $1,200 for mortgage, $560 for personal loan.
How did you pay for school?
My school had a very generous aid package, and a commitment to ensure that any student they accepted could attend, regardless of what they could pay. For the first year and a half or so, my dad was contributing to the tune of maybe $6K/year. Then my sister was in a serious car accident that required two months in the ICU and several follow-up surgeries. He talked to the school and they eliminated his contribution, replacing it with grants. Student loans were a small percentage of aid to begin with, but then my senior year the school made headlines by removing loans from the package altogether. Beyond that, I had a work-study job, and worked an additional part-time job for about half my time there, which covered day-to-day expenses, travel, books, that sort of thing.
Have you paid off any major debt?
I had three separate student loans in my package. Two of them are paid off, and the third should be cleared in 2019. I also cleared a credit card by paying it down by an extra $100 each month. (So if the balance had been $1,900, then usage + interest brought it to $2,050, I would pay $250 to bring the balance down to $1,800.)
Home debt:
We pay $100 more than the minimum. We looked at what we were paying in rent and tried to keep our mortgage payment similar. We ended up spending more than we hoped, but still less than we got approved for. Paying off the mortgage faster is a nice idea, although we plan to sell this house which would start the clock over anyway.
Have you ever done anything noteworthy to avoid or lessen debt?
The debt consolidation loan was kind of a big deal. It lowered the interest rates on some of my debt pretty substantially. And, of course, it just felt really good to zero out those other accounts. Oh, and I can't forget our decision to move from L.A./Orange County to Kansas City. That was entirely financial — we had outgrown our one-bedroom apartment, and our options were to get a roommate, get second jobs, cut our expenses significantly, or move someplace cheaper. We opted for the last one, and it's been probably the biggest factor in allowing us to improve our lifestyle and financial standing. When I told one Californian friend what I paid for my 3BR house, she literally fell over. It's an enormous difference for the cost of living.
Thinking of making a move like Aerin's but worried about leaving behind big-city life? We asked her to pass on some advice:
It's funny, I actually do a lot more in Kansas City than I did in L.A. — we're members of the zoo and had season tickets for the symphony and the Broadway series for the past couple of years (although we're not renewing either), plus we do a fair number of concerts, author events, and conventions. In L.A., we had annual passes for Disneyland and … that was about it. We have the time (thanks to a commute that's over an hour shorter each way) and disposable income to do things we just couldn't there. I've always lived in cities (well, suburbs of major metros) so I don't think I'd do well in a legitimately small town. But I've found that basically if a city is large enough to support an airport, it's likely going to have a decent selection of good restaurants and cultural offerings. I mean, Des Moines has a better Broadway series than KC does for next season! There are still some specific things I miss (returning to In-N-Out is the closest I get to a religious experience), but on the whole the trade-offs have been worth it.

The deal I made with my husband when we first talked about moving was that if we weren't happy, we could just save aggressively for a couple of years and be better positioned to move back. It helped that we didn't have kids, and that he was able to transfer within his company so we retained his income and our insurance for the transition. I'm open to making a big move again if the right opportunity comes up, but we're more settled now, so the bar for that would be pretty high.
Savings, Investments & Retirement
How much do you save for retirement?
I contributed $3,600 this year. My company matched that, plus an additional 1% of my salary.
How much money do you allocate to other tax-savvy investments/accounts?
None. I know my husband has an FSA, though.
How much do you save outside of retirement accounts?
I have a $25 monthly savings transfer that I set up in college and still use. I also have a keep the change program that rounds up my purchases to the nearest dollar and moves that to savings. Beyond that, I allocate money to savings as I can when dividing up paychecks.
Do you have/use a financial adviser or planner?
I just use the default for my retirement plan. I don't really have enough of anything else to do any serious investing.
Do you have an end goal for saving or are you just saving for a rainy day?
Mostly I like to save for a rainy day. We also tend to save up for large purchase/projects, especially vacations.
What's the #1 thing you're doing to save money, limit spending, or live frugally?
I try to avoid purchasing things until I have the cash on hand to do it. I also try to price compare and find good sales. We lived paycheck to paycheck when I was growing up (we were pretty solidly middle class, but my mom kept the regular expenses extremely tight to allow for spending/safety nets in other areas) so I learned a lot of tricks and a frugal mindset that way.
We asked Aerin to share some more money-saving strategies she's learned:
When we were kids, my mom made us divide our money into 50% savings, 20% gifts, 30% spending. So this acquainted me with splitting early on, but I kind of resented not getting to keep much of my money. So when I wanted to buy a laptop in high school, I ended up sort of skimming off myself — if I made $17 babysitting, I'd hand over $15 and squirrel away the other $2 in a hidden spot. I found it easier to get my head around saving up for something specific than for its own sake. That's still largely how I operate, very goal-oriented.

The other big thing I remember is her teaching us the importance of tracking expenses. Once we were about junior-high age, she gave each of us kids an equal envelope of cash and took us back-to-school shopping for clothes and supplies, where we'd each pick out and pay for our own stuff. The trick was, we didn't go to Walmart for supplies until very last. So if you didn't hold back enough money to pay for a new backpack or binder, you were stuck using last year's. Definitely a hands-on lesson! Another time she and I went on a long weekend trip to visit the campus of my first-choice college, and she put me in charge of writing down every penny we spent. Seeing how little stuff could add up was very enlightening.
How much do you have in cash that's available today?
$3K in my personal account, $4K in joint account. My husband maintains a separate personal account; I don't know his total.
How much do you have in cash that's available in a week?
$1,200 in personal savings, $4K in joint savings.
How much is in your "emergency fund," and where do you keep it?
Savings accounts as noted above. Some money in the regular accounts is allocated for specific larger expenses as needed (like medical bills or car stuff).
How much do you have in retirement savings?
$50K; don't know about my husband's.
Spending
How much do you spend on the following categories on a monthly basis?
Groceries: $400
Restaurants, bars, takeout, and delivery: $300
Clothing and accessories: $30
Transportation: $200 (car payment; car is fully electric, so charging costs are minimal)
Rent/living expenses: $1,100
Entertainment: $150
Other major expenses: If I'm working on a major sewing/craft project, that can eat up a lot of cash. (I do have an Etsy shop, and it's not something I would consider a full-on side hustle, but it usually brings in enough to pay for supplies for the next project and keeps that stuff from cluttering up the house. The downside is it means I tend to pick projects with an eye toward inventory rather than fun or challenge.) We also allocate about $50/month for pet expenses.
Health care — premiums and other costs: $3.300/year medical, $130/year dental, $280/year vision, all for me and my husband. I probably spend about $1,000/year outside of coverage for things like chiropractor (not covered), co-pays, tests, that sort of thing.
What's your spending range for these things? What's your average?
Vacations – Range: $1,000–$8,000
Vacations – Average: $4,000
Charity – Range of Donations: $10–$200
Charity – Average Donation: $30/monthly recurring donations, $10–20 here and there when I can

Individual items of clothing – Range: $5–$300
Individual items of clothing – Average: It hurts me to spend more than $20 on a single item of clothing. I do a lot of thrifting. One thing I do spend more on is coats.
Apartment or house – Current main residence: Purchased at $153K
Car or other vehicle – Range: $2,000–$10,000
Car or other vehicle – Last purchase / current main vehicle: $8,000
Any other large personal expenses?
Lawn care $75/month (although we're probably gonna get rid of that).
We asked Aerin to comment on whether she'd like to spend less (or more) on any of the categories listed:
I'd really like to get our food costs down. We've been experimenting with a few different things for that, but everything at the grocery store is getting so expensive that it's tricky. And I'm always trying to find extra money to throw at the vacation fund.
Fill in the blank on this question: I could save _____ if I stopped ______, but I don't because _______.
I could save a decent chunk on groceries if I cut coupons and planned my meals better, but I don't because I just don't have the time or energy.
When was your wedding, how much did it cost (total), and how much did YOU pay?
2010, cost $7K, my parents contributed about $4K
Tell us about your wedding:
We cut down the guest list to literally the people in the wedding, their spouses, and any other family on the same tier. (So my husband's uncle performed the ceremony, so we also invited the uncle's siblings but not other aunts and uncles. He's closer to his extended family than I am to mine, so this gave us a clear way to draw lines.) Total was about 40 people. Since my family is scattered all over, we got married in Las Vegas to make the travel easier. We booked a huge suite with a great view at Mandalay Bay, and that's where we did the welcome dinner, rehearsal lunch, ceremony, and reception. When our caterer asked for my budget I told him $35/person, figuring I could go up as high as $50/person plus booze. He came back with a cocktail menu including beer/wine/soda for $35. The food was great, and that allowed us to cater the other meals plus take everyone to a breakfast buffet the next day.
We did a bunch of other stuff to cut down on expenses. My gown was $250 at David's Bridal, marked down because it had been discontinued. I spent nine months making roses out of book pages. Instead of a regular cake, we did cookie cakes on a tiered display I designed and built. (That one got featured on CNN!) I spent ages scouring eBay for things like bridal party gifts (my side each got a nice leather-bound copy of Grimm's Fairy Tales), cake topper, shoes, jewelry, etc. Photographer and videographer were both friends who gave us good rates. The one place we didn't skimp on was the rings, since we figured that was one of the few things we'd still have after the day was done. Those cost about $1K each.
Basically, we wanted to put our money toward showing everyone a really good time. We knew that traveling was expensive and annoying, so we wanted to make sure our guests were well cared for while they were there. The whole affair was pretty relaxed and we got to see nearly everyone outside the wedding itself, so it was pretty successful in that regard. And we did so well on the cost of the wedding that we had about $3K left over to pamper ourselves for a few extra days in Vegas.
Are there any other large expenses in your life, now or previously?
Buying myself a MacBook Pro in college cost about $3K that I didn't have at the time, and I spent quite a while paying back that credit card debt. But I didn't need to buy another computer for about six years after that, so I guess it worked out? Moving across the country pretty much wiped us out. We had some friends who let us live with them for a couple of months until we got on our feet, which was a huge help.
At any point in your life to date, has inheritance played a role in your money situation?
My mom inherited some money from her parents, but we were all adults when they died so none of it has really passed to us (since there wasn't a ton).
How has your family provided financial support in your adult life, if any? (Or, do you provide support to them?)
My mom and stepdad gave me a car when I was in college, because I desperately needed one due to how far away my job was. When that car died and couldn't be revived, my dad had just paid off his car so he gave it to me and bought a new one. I was extremely broke at the time and couldn't afford car payments, so this was extremely necessary. Beyond that, I haven't really leaned on my parents for much financially.
I should revise the non-financial support from family: I don't live anywhere near family, though they've sometimes advised from afar. Recently I had a weird power outage, and I told my mom who told my stepdad who told my stepbrother. He correctly deduced that it was an issue with the power company, which saved me from having to pay an electrician on a Sunday.
Does your family provide any non-financial support?
I don't live anywhere near family, though they've sometimes advised from afar. Recently, I had a weird power outage, and I told my mom, who told my stepdad, who told my stepbrother. He correctly deduced that it was an issue with the power company, which saved me from having to pay an electrician on a Sunday.
Money Strategy
Do you have a general money strategy?
Oh, yes: The Spreadsheet.
I started doing this after we moved to the Midwest, before I found work and money was extremely tight. It's got a column for each category of expenses: one for each bill (mortgage, power, insurance, etc) and then columns for things like vacation, appliances/furniture, or other things I'm saving up for, like new computers or a tattoo. Each column is marked with a target amount that it needs to get paid up to. On bills, this is the high-water mark of what we've ever owed. So one time our power bill was $250 for the month, so I keep $250 in that fund even though it's usually much less each month. For other categories, it's the savings goal, either a specific cost if there is one or a general guideline.
Then I go through the checking account, and each transaction gets entered in its own row. The amount gets listed in the correct column. Paychecks get divided up accordingly, and I have another page in the spreadsheet where I can keep track of which credit card transactions came out of which column so the bill can be divided accurately.
Functionally, this means I have at least one month's worth of expenses on hand at all times. Once a bill comes out, I then put back the money so it's ready for next month. It also allows me to work toward long-term goals, because even if I can only allocate a couple of bucks a week I'm still at least making space for it in my plans. More importantly, it means I don't have to do a lot of thinking about my money when I'm spending it. If I get really concerned, I can pull it up on my phone to see where I'm at, but for the most part it works as a sort of post-hoc budgeting. If I overspend on one category for this week (like when I bought a bunch of work clothes from a store that was closing because they were 80% off), I know that I can't put as much into other funds until I've made up the difference, and I also should avoid spending from that fund until it's been rebuilt.
It's a fair amount of work to sit down and log everything once every couple of weeks, but I absolutely love that I can buy fun, silly things on impulse without having to worry about whether this will mean I can't pay a utility bill. It was a long road to go from being overdrawn in that account to having this sort of cushion, and The Spreadsheet absolutely helped me get there.
(After submitting her Money Snapshot, Aerin sent us this update: "I dug up the link to The Spreadsheet! Way old, but still works. I uploaded mine into Google Drive so it's accessible from multiple devices — one version for my personal account and one for joint.")
Time vs. money — do you spend money to save time (e.g., cleaning service)? Do you donate your time instead of money? What else does this phrase mean to you?
There are definitely times when I do that, especially with home repairs when the DIY route usually ends up being more expensive as well as more time-consuming. I worked a retail job part-time for a while, but I realized that the bit of extra money wasn't nearly worth the time, energy, and stress of it. My time is a non-renewable resource, and pushing myself beyond the limits of my energy had a much higher cost. I donate money over time, though, for much the same reason. I just don't have the bandwidth to give extra time beyond my current commitments, but I can at least provide some support to the people who can.
Anything else to add?
When my husband and I moved in together, our system was basically that he'd pay for everything, and I'd write him a check once a month for my half. It worked, more or less. Now, we have a joint account that we both pay into, which we use for shared household bills and anything that is used by both of us. However, we've still maintained our separate personal accounts as well, and I think it's one of the best decisions we've ever made. See, if there's only one account, things become a zero-sum game: If he springs for some nice clothes, I might not be able to get the video game I was eyeing, because it's all coming from the same pot. But with separate accounts, you don't have one person held responsible for the expenses the other person incurred independently. We've been together for 10 years and we've never once argued about money. We talk about it a lot, and it's been a source of stress when it's not there or when we get thrown a curveball, but there's just not the resentment about each other's choices and priorities.
So that's probably my biggest piece of advice to people getting serious with a partner: Keep a personal checking and savings account, even if you combine nearly everything else.
Photo credit: icons via Stencil.