Sure, we all know what basics professional women are supposed to have in their closets, but if you're buying one for the first time or replacing one you've worn into the ground, it can be a pain to find exactly the right incarnation in stores. In "The Hunt," we search the stores for a basic item that every woman should have.
This week's "The Hunt" features that perennial office basic — the black jacket you can throw on over anything and it looks great.
This one was a surprisingly challenging hunt because we wanted to feature jackets that were intended as separates, not ones that were part of a suit (although that is always a valid choice as well).
The black jacket is particularly great for the summertime — come in wearing a sheath dress or a casual t-shirt and, when you get to the office, put your black jacket on. You're instantly more professional (and warmer).
This post contains affiliate links and Corporette® may earn commissions for purchases made through links in this post. For more details see here. Thank you so much for your support!
Some of our favorite blazers to wear as separates include: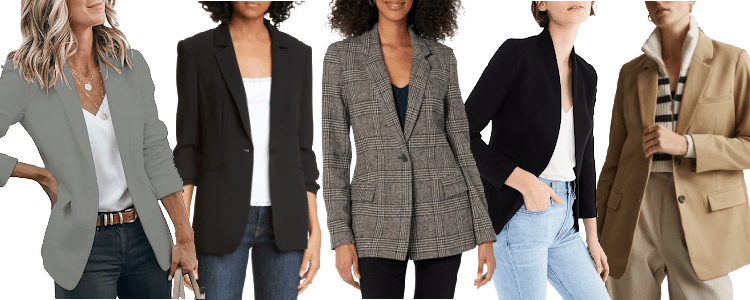 | | |
| --- | --- |
| | We've been ogling this one since we saw a friend in it. It's a knit black blazer, very fitted, from DvF. Lots of pockets and particularly flattering on petite and/or very small-boned girls. Available at Nordstrom for $365. Diane von Furstenberg 'Teddy' Multi Pocket Knit Jacket |
| This new L.A.M.B. blazer is crepe, which intrigues us because it looks velvet from afar. We love the fit and the satin border, which also intrigues us because it reminds us of the Balenciaga coat that was all the rage last season (but infinitely more versatile, we think, for a work wardrobe). Available at Nordstrom for $285. L.A.M.B. classic blazer | |
| | Alvin Valley is a brand we've seen around a lot but have never tried on. We like the look of this jacket, though, and you can't beat the discount — $530 to $289, available at Bluefly.com Alvin Valley Black Stretch Poly Peak Lapel Blazer. |
| Chaiken is a great brand for basics like this black cotton-silk blend black blazer. We lurve the fact that it's a blend of cotton, silk, and Elastane (which we're presuming makes it stretchy). Available at Bluefly on sale for $209 (was $440). Chaiken Black Stretch Cotton-Silk 'Hip' Blazer | |
| | Talbots is definitely not the sexiest store, but every so often one of their basics will hit it out of the park. This stretch twill two-button blazer has a great look, and it's on sale from $179 to $88. We like that the buttons match the jacket. Available in black, brown, beige, light pink, and white. Stretch twill two-button blazer |
| Want a deal? You're welcome, here you go:Mango (amidst the crazy sales) has this black two-button jacket to the right is only $43 on sale. Mango Suit Jacket 3LL Sateen6 | |
This post was last updated August 2020 except where otherwise noted.