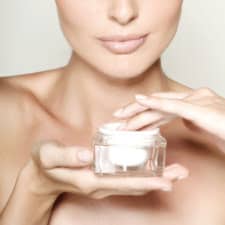 I was thinking about this the other day while moisturizing behind my ears: I follow some weird-ass beauty rules. And I got these gems from even weirder places. So I thought it might be a fun thread — what weird beauty rules do YOU follow — and if there's a story there, where did you get your weird beauty rules?
(Hmmn: I suppose everything in our older post on the best beauty advice you've ever heard could count as weird beauty rules, like putting deodorant and dry shampoo on at night! Also, there was a great threadjack about skincare recently — thanks to readers I now want to check out everything from the new-to-me brand The Ordinary.)
Weird Beauty Rule #1: I moisturize behind my ears.
Where I got this beauty tip: A random infomercial for some kind of skin cream.
I was flipping channels one night and saw a minute or two of a skincare infomercial — I was intrigued that the seller advised the host to always put the moisturizer on your neck and up to the area behind your ears because, well, I'd never heard that advice anywhere before. (Admittedly I got rid of my Allure subscription a few years ago!) This kind of makes sense to me based on the theory that if you want your face to stay supple and flexible in order to prevent wrinkles, you also want the area behind your ears to be supple and flexible. Plus, it's not like some huge area that requires a ton more moisturizer.
Weird Beauty Rule #2: I pat eyecream on using my ring finger.
Where I got this beauty tip: A super old Tina Fey interview where she divulged about what she, Amy Poehler, and Monica Lewinsky talked about when Lewinsky hosted SNL.
Tina Fey mentioned in this interview that your eye area is the most sensitive area, so you should always use your ring finger to put on any eye cream because it's likely to be gentler than just swooshing stuff on with your pointer finger. And hey, we know Tina's never wrong.
Weird Beauty Rule #3: I try to only use "upward motions" when putting creams and serums on my face.
Where I got this beauty tip: I think a comedian was joking about how she never ever used downward motions on her face because hey, why help the wrinkles?
I'm trying to do this more as I get older, although I'm not super worried about wrinkles (one of the benefits of being above my ideal weight is that my face has lots of natural fillers, yay!) — but it's an interesting idea. I find it hard to be efficient with the serum or lotion and still use only upward motions, though. Hmmn.
Readers, do you have any weird beauty rules you follow? In general, do you have any great beauty tips?
Picture credit: Deposit photos / claudio.gangi.fastwebnet.it.