Well, not exactly. Lauren Della Monica, over at Damsels In Success, posted her biggest lessons learned from two of her careers: as an editorial assistant at Vogue, as well as a litigator at a big firm. Her resume is inspiring, anyway — she's opened her own art consulting firm and is only 33 — but these tips are particularly interesting, if only to compare the two. Here's a quick quiz for you — guess which piece of advice comes from which column? Answers (after the jump)…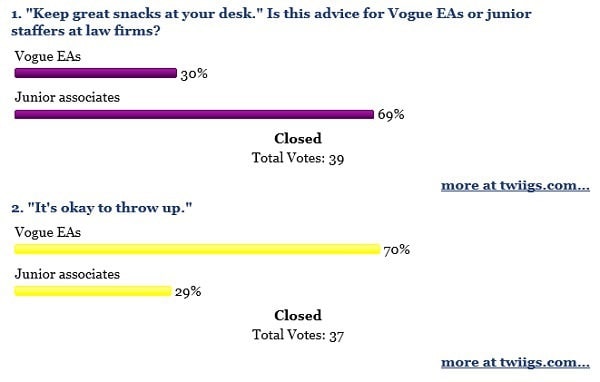 ANSWERS
1. Keep great snacks at work — This advice actually comes from her days at Vogue — she writes of an experience where Annie Liebowitz was tearing through her desk looking for something to eat in order to get through a 12-hour photo shoot. We think this could be for law firm staffers, also — half the women we know at these firms keep peanut butter and crackers at their desk because they have no time to go outside for a real lunch.
2. It's ok to hurl — This advice comes from the law firm days, actually. She writes that one of the male senior partners she knows does this from time to time before a big oral argument or hearing, and still looks calm and collected when he does it.
Strike a Pose: What I Learned at Vogue
Lessons From the Edge (Of a Large New York Law Firm)
Photos by Zaxer, courtesy of Flickr.