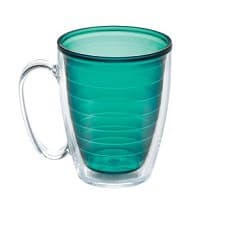 Something on your mind? Chat about it here.
Readers turned me on to Tervis products a while ago, and while I like them for water glasses, I'm loving the new Tervis mug I just bought.  I've been getting into drinking hot water with lemon (I am a total weirdo and can't stand tea), and wanted a large mug that was just for that.  They're $9.99-$12.99 at Amazon (I got it in clear but am featuring the pretty green since it looks better on the screen).  Tervis Mug
Psst: Fun fact: when I started the Weekend Open Thread on Corporette, it almost exclusively featured mugs or other glasses — I had just gotten married and was obsessed with all the pretty china I'd seen while registering. The idea was that we were all getting together over coffee (or wine, or martinis) to chat. Cheers to you guys!
P.P.S.: If you don't yet have nice champagne glasses, these Orrefors ones are on a nice sale at Nordstrom.