Liking these posts? Follow us on Twitter or fan us on Facebook — this is the edited version of what we're reading! (We also Tweet if we hear about a good sale.)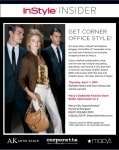 – As we may have mentioned, we're doing an event series with AK Anne Klein and InStyle. We'll be in New Jersey this Saturday, at the Cherry Hill Mall, from 2-4 — please come out and see us! — you can RSVP by calling 888-622-9769, or e-mailing [email protected]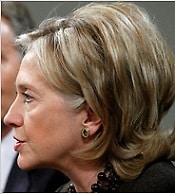 – Ladies, the day you have waited for since the '80s is here:  Big Hair is Back. At least, so says the NYT. (Pictured.)
– Gothamist reports on how overachieving women will drink you under the table. Amusingly, quite a few of you "liked" this item on Facebook — perhaps we should have a post on drinking and overachieving? (If so, what should the post focus on?)
– HungryGirl rounds up some great snack foods for the office.
– The Wall Street Journal reports on what a professional organizer can do for your clutter. Meanwhile Real Simple advises on how to recycle anything.
– Monday's guest-poster, Kalyn Johnson (who wrote about transitioning your wardrobe from winter to spring), was featured on LawShucks this week, telling about how she made the decision to leave BigLaw and become a stylist. Meanwhile, former guest-poster LPC (who gave us advice from the hiring manager/VP level intended for young women just entering the workforce) is featured on fashion blog Already Pretty, advising how to add a touch of personality to an otherwise conservative office.
Many thanks to this week's advertisers:
– AK Anne Klein
– Carissa Rose
– MySkins
– As well as our advertisers through BlogAds!