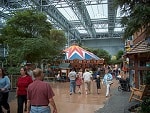 2016 Update: See our newer post on the best work clothes for different body types!
Reader S wonders which are the best stores and brands for different body types, which is an excellent question:
Could you do a run down of what different shops work for different people? I just started as a summer associate, and a few of us were talking today about what works for us and what doesn't. For example, I'm straight as a stick, so Ann Taylor and Express always stick out in the wrong places and look bizarre. On the other hand, they fit my curvier friends beautifully. I end up buying a lot of my work clothes at Banana Republic and Talbots. And when the commenters complain about clothes being boxy and short – well, those are the ones that fit me perfectly.

Could you do some sort of massive reader poll on suggestions for stores based on body type? It'd be nice to have an idea instead of personally scouring every mall in the tri-county area (which I've started doing).
Such a great question, and I can't wait to see what the readers say. Please identify your body type in your comment. Pictured: Mall of America, originally uploaded to Flickr by Matti Mattila.
For my $.02, as a curvy/hourglassy girl (5'4″ with long legs), the following department store brands have always been favorites of mine:
– For pants: Banana Republic, Ann Taylor, Brooks Brothers, Trina Turk, Armani
– For fitted blouses: Brooks Brothers, Thomas Pink
– For suits: Ann Taylor, Tahari petites (for skirt suits), AK Anne Klein / Anne Klein
– For casual pants: Tommy Hilfiger, Levi's, DKNY
Some brands never quite look right on me — Theory suits, Calvin Klein or Ralph Lauren pants, etc. Others seem to require on the particular garment — Rebecca Taylor, Nanette Lepore, etc. All dresses need to be tried on for me. Most off-the-rack brands fit me fine in terms of knee length; I can occasionally wear petite skirts also (but never petite pants, for some reason).
Readers — what is your body type, and what are your favorite brands and stores?