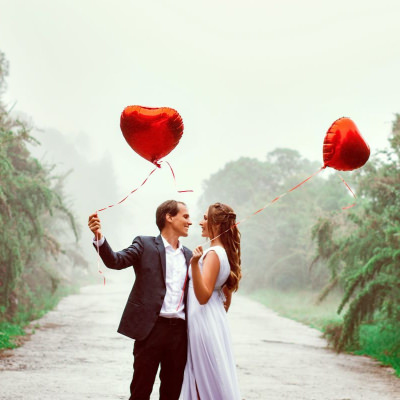 So here's a little question for you guys: at what age did you start dating seriously? Would you say you've been permanently single, or that you've dated person after person in pretty quick succession? If you've always been partnered, what tips do you have for balancing academics and career with your love life?
As I've talked about before, I didn't really start dating seriously until my late 20s when I definitely had a marriage mindset, and I've always felt like a weirdo because of that — but over the years I've heard so many stories (mostly from the comments section here) about how a ton of people were like me and late daters.
I recently heard about a survey from the mid-90s that found that most female grads from my college (Northwestern) had "never had a serious relationship" by graduation — and thought, hmmn, maybe I'm not such a weirdo after all, at least among women who have been really focused on academics and career. 
So let's discuss! At what age did you start dating seriously — and how have you balanced dating life with academics, career, and more?
For my own $.02 – I definitely had crushes and went on sporadic dates here and there in my 20s — but if it's possible I think I watched too many romantic comedies to have a really solid view of what dating was supposed to be.
In my youth, I had the naive idea that dating would lead to marriage, and I wasn't ready to be married, so the second a guy annoyed me I would stop flirting because ugh, who wants to be married to a guy who annoys me. (Plus, hello, I had college and law school and my career to think about, and, I thought, who has time for relationship drama when you're focused on all of those bigger things!) I also had the naive idea that one day, clouds would part, there would be some adorable meet-cute moment, and everything would click and I would be inseparable from my other half from that moment forward.
Which isn't to say that I don't think love should be easy — my husband and I have always had a very easy relationship, thankfully — but let's face it, the romcom movie idea of love is a bit oversimplified and more all-encompassing.
(That said: there are still some great fashion movies that are also romcoms — and I'm basically reading brain candy books that are romcoms, so obviously old habits die hard.) 
SO: that romcom attitude didn't quite work out, and at a certain point I decided I needed to nudge the universe along by doing some serious Internet dating, in part because I wanted kids.
I approached it in true geek fashion and read books about finding time to date when you're super busy, signed up for the nerdiest Internet dating sites, and eventually joined some brainy charitable groups (like the under-40 groups for the New York Public Library).
I didn't really get any "hits" through all that, per se — I met some nice guys but not MY guy — and learned to cut my losses as soon as I rolled my eyes at my dates. I'm thankful I did it because I do think it prepared me for meeting my husband (at a friend's birthday party, at a bar), because all of those dud-dates helped me appreciate the chemistry and comfort I felt with him immediately.
So: I'm a weirdo, but a lucky one. But I have been fascinated to hear over the years how MANY women — particularly women who have done good in school and moved around for different degrees — just haven't focused on dating until they're far older than the romcoms and women's magazines would have you believe is appropriate.
So I thought it would be an interesting question to discuss: at what age did you start dating or seriously looking for a partner? If you dated during school, did you have to juggle your academics and your social life? What advice would you have for younger women who might be feeling like a weirdo, or feeling like it's "too late" to start dating?
Stock photo via Stencil.