Sure, we all know what basics professional women are supposed to have in their closets, but if you're buying one for the first time or replacing one you've worn into the ground, it can be a pain to find exactly the right incarnation in stores. In "The Hunt," we search the stores for a basic item that every woman should have.
I think a classic piece every woman should have for summer is a linen blazer.  As noted in our last summer blazer roundup, there are other lightweight options for summer — silk, seersucker, cotton pique, etc — but nothing breathes quite like linen, and there are a ton of great options for linen blazers in stores right now. 
Ladies, what is your favorite fabric for a lightweight blazer?  Have you bought any linen blazers recently that you're loving (or have any from previous years that you can't wait to break out of your closet)?
May 2021 Update: These are our favorite linen blazers right now…

May 2021 Update: These are some of our latest favorite white blazers...

I like linen for breath-ability, but "affordable" linen can sometimes be scratchy — so I like the Tencel blended with this soft blue linen blazer. I like the deep shawl collar, and while I wish it had a button, the price can't be beat — it was $98 but you can take 40% off (no code needed). (At one point they did have matching Marisa cuffed pants, but they seem to be sold out online now.) Other cute linen blazer options at Loft: Linen Canvas Jacket and Striped Linen Cotton Moto Jacket. Pictured: Loft Tencel Linen Open Jacket
Seven color options (it's pictured in navy at the top of this post) and a super affordable price tell me that this would be a great bet. Although it's available in sizes XS-XL (regular and petite), Nordstrom advises to order one size up. It's $79. Olivia Moon Three Quarter Sleeve Linen Blazer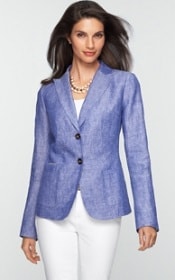 Plus sized ladies, I'm sorry to say this is the only option I found for you: this happy pastel blazer at Talbots (available in misses, petites, woman, and woman petites sizes in four colors). It's $149-$169, depending on size. Talbots Cross-Dyed Linen Blazer
This dark evergreen linen reminds me of the other green linen jacket I picked for a TPS report a while ago — the color looks fresh and cool, and I like the staggered pockets (two on one side, one on the other). J.Crew has the blazer in white, dune, and "bright kiwi" as well. It's $175. JCrew Schoolboy Blazer in Linen
Yes, yes, I remember that no one liked this jacket back when I posted it in a more fun leopard print. I still like it, though — and this nice brown "fatigue" color seems like a great wear-with-everything option. (It's also available in "picnic pink," a light blue, an ikat print, and, yes, the animal print). The blazer ranges in price from $178-$298 (the pictured one is $278) at Nordstrom. (Also in this pretty-expensive price range: the Majestic Linen Blazer and the Theory Lousine Linen Blazer.) Pictured: Joie Mehira Linen Blazer
Wow — gorgeous. I love the windowpane print on this linen blazer, and the little details like the piping on the pockets and lapels. I think the close fit and the print will be great ways to distract from whatever wrinkles come from the 100% linen jacket. It's pricey, though: $995 at Nordstrom. Le sigh. Max Mara Hodeida Windowpane Linen Jacket
Like this feature? Check out other recent installments!