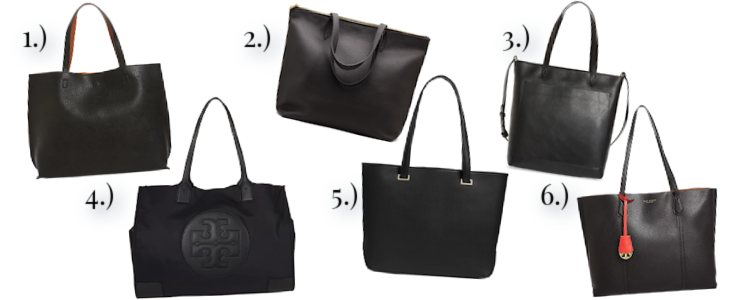 (Looking for a luxury work bag? Here's our latest roundup…)
Sure, we all know what wardrobe essentials for work professional women are supposed to have in their closets, but if you're buying one for the first time or replacing one you've worn into the ground, it can be a pain to find exactly the right incarnation in stores. In "The Hunt," we search the stores for a basic item that every woman should have.
Here's today's question, readers: what do you think makes for the best tote bags for work, interviews, and beyond? I've argued in the past that the best tote bags for interviews are nylon (lightweight) but structured (non-floppy, stand up by themselves on the floor), large enough for a folder (for copies of your resume), and are mostly a solid color without brash logos. In contrast, I've argued that the best professional tote bags in general may be leather (they often look more polished), be a laptop bag (or have a removable laptop sleeve), and have a ton more organization as needed for your daily schlep.
Ladies, do you have different tote bags for interviews and tote bags for work? Do you tend to collect tote bags in general? (I know I've got about 10 of them in my closet…) Which ones do you carry the most (and/or love the most)? In general, what qualities do you think makes the best tote bags for work?
This post contains affiliate links and Corporette® may earn commissions for purchases made through links in this post. For more details see here. Thank you so much for your support!
(Curious for other versions of this post? Here they are from 2021, 2018, 2017, 2016, 2014, 2014,  2013, 2012, 2011, and 2010).
Best-Selling Tote Bags for Work
Some of the best selling work totes of all time are these…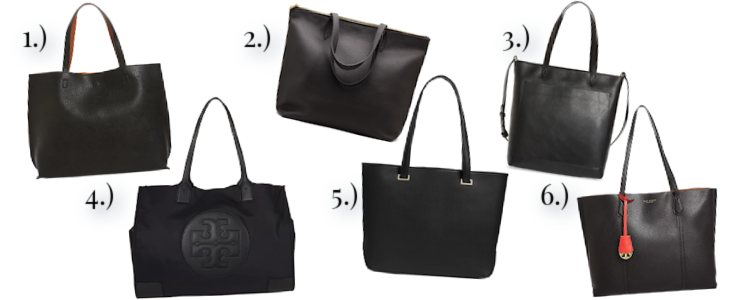 (Looking for a luxury work bag? Here's our latest roundup…)
As of Feb. 2023, some of our favorite luxury work bags for a splurge (large enough for work papers and sometimes even a laptop) are from Chanel, Louboutin, McQueen, Mulberry, MCM, Jimmy Choo, Ferragamo, and Strathberry. Of course, note that a lot of our readers who are in big jobs note that they love their (more affordable) Lo & Sons bags, as well as their Tumi.
Looking for work backpacks to splurge on? Montblanc, MCM and Senreve are great, and Valextra has some men's backpacks that look perfect.
Featured Tote Bags for Work
Best-selling, classic styles are great, but sometimes you want to know what else is on the market today for the freshest look or the best discount. So: here are a few bags we're liking (update — note that many are probably sold out by now, unfortunately!)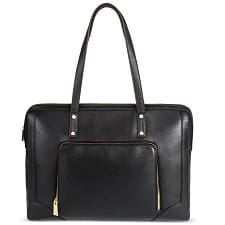 Target has a ton of cute options right now — and what you may find lacking in quality should be made up for by affordability. This Merona bag isn't the highest rated or the most affordable, but I like it the best — the zipper on the front looks sleek and cool, and in general it looks like a nice, compact tote bag. It's $39.99, available in black and gray. Tote Handbag – Merona™
I always find it interesting to see which items are top sellers at Amazon — with their huge inventory it can take some effort to find a winner! This vintage genuine leather bag is only $54, comes in eight colors (including navy, tan, and a particularly nice gray) and has 234 positive customer reviews (4.5+ star rating). It is eligible for Prime shipping. S-ZONE Women's Vintage Genuine Leather Tote Shoulder Bag Handbag Upgraded Version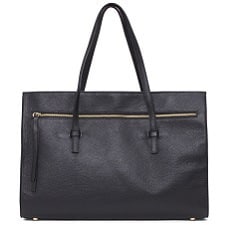 I still say that discount stores like TJ Maxx can have some real finds for classic accessories like tote bags for work — this leather tote is on sale for $99 down from $170 and looks like a good bet. (I think this designer bag is hilarious and adorable, and even though it's still $800, it's down from $1200, so it's still a great bet!) Pictured: Tote Bag.
One of the really weird things about doing this roundup is that of our usual suspects like J.Crew, Ann Taylor, even Talbots, so many of them hardly had any good tote bags for work. Banana Republic delivered, though, with this nice structured leather tote bag — it's $148 in black and navy, but the mushroom is marked down to $88 (on top of the deal Banana has today, where you can take 40% off a purchase of $200+ — lots of cute suits and dresses for work if you're looking, ladies!). Portfolio Structured Leather Tote
I've loved so many of my Furla bags in the past — and they so often are on such great discount — that I always look for one good example to include in these roundups. This solid leather tote has a nice chain detail, has a solid structure, and is a great basic. Saks Off Fifth has a great selection right now in general; this one is marked to $219, down from $448. (It looks small here but it's 15″ W X 12″ H X 5″ D.) Maggie Solid Leather Tote
Of course, the Nordstrom Anniversary Sale is going on, and there are a ton of great options for black work totes in the sale — including everything pictured below, ranging in price from $39-$284 (prices will go back up to $59-$428 after the sale ends). (See all of our picks for work here!)

Pictured below: one / two / three / four
How about you, ladies — what do you think are the best tote bags for work? Do you go for crazier colors, lighter weight fabrics like nylon, or just a different sized bag in general?

Like this feature? Check out other recent installments!
This post contains affiliate links and Corporette® may earn commissions for purchases made through links in this post. For more details see here. Thank you so much for your support!
We are a participant in the Amazon Services LLC Associates Program, an affiliate advertising program designed to provide a means for us to earn fees by linking to Amazon.com and affiliated sites.