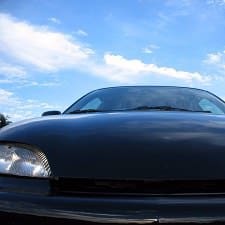 2017 Update: We still think this is a fascinating discussion on the question of whether you need to buy a fancy car to impress clients — but you may also want to check out our more recent discussions of how to buy a car as a single woman and (on our blog for working moms) how to choose the best family car for you.
What kind of car should the overachieving chick drive?  Do you HAVE to buy a fancy car to impress clients? On the one hand, a luxury car could impress clients and colleagues… but on the other hand, it can also convey that you're "not working for the money."  Reader K wonders:
I'm graduating from law school next month and I'll be starting at a large regional firm in the Fall. For the past 11 years, I've been driving an old 2-door Honda. It was a great car for commuting to law school, but I'm definitely ready for an upgrade. My husband and I have talked about buying a new car and he really wants a higher-end sedan (audi, lexus, acura). I would love a luxury car, but I would be equally happy with something more modest. I'm worried that if I pull up in an expensive new car on my first day at the firm, my colleagues will assume that 1. I don't really need to work (untrue) or 2. I'm materialistic and fiscally irresponsible (also untrue). My husband and I are in our 30's, we've both worked and saved for quite a few years, and I have a small amount of law school debt, so it's within our reach to upgrade.

Am I worrying about nothing or should I consider my colleagues' perception when deciding what type of car to purchase?
This should be a fun one — I'm already seeing shades of our engagement ring discussion, as well as our intern-with-the-Birkin discussion.  I should say upfront that I've been living and working in NYC for about 15 years now, and cars just don't matter that much here. (Pictured: Devan's Pimped-Out Ride 3, originally uploaded to Flickr by Jennerally.)
Financially speaking, I've always been taught that cars are depreciating assets, and so it is always a bad decision to lease them — you should strive to buy them outright (all cash) whenever possible, and keep the same car for as long as you can. (Although: apparently only 11% of people buy cars outright.) I will also say that of the many friends I have who drive luxury vehicles, the vast majority of them are making monthly payments on them or leasing them, and trade them in every few years to get newer, better cars.
So I think we've got a lot of competing judgments that people may make about you based on your car.  I think most will assume you're making monthly payments on it or leasing it; some may think "Ooh, nice car, she can afford a monthly payment that high;" and others may think "Huh, she probably didn't have the cash to buy a $20K car outright so she may as well get a flashy car if you're making monthly payments," and still others may think "Wow, she's loaded!"
If the choice is between buying a lower-end car in cash, versus making payments on a higher-end car, you may want to consider the advice Men's Health gave recently to its readers on how to attain status symbols: buy a slightly older car, like a 2003 BMW.  The cost may be low enough that you can buy it all cash, you still have a status symbol, and if people think anything of it, they may think "ah, she appreciates quality but also makes prudent financial decisions."
For my $.02:  I think ultimately you should look at your family finances, weigh that against your desire for the car you like, and get the car that makes the most sense. Readers, given your druthers, would you rather own a brand new car outright, make monthly payments on a fancier car, or own an older, fancy car outright?  What judgments do you make about people based on their cars? Do you think you need to buy a fancy car to impress clients?