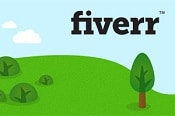 What new tools and tricks have you found that help you get your job done quickly and efficiently — or your life to run more smoothly in some fashion? We haven't had a Tool of the Trade feature in too long!
My latest find is Fiverr, which, admittedly, may have limited use if you're working with proprietary documents and the like — but if not is my favorite tool for fixing software problems, PDF problems, and more. Here's the premise:  Various freelancers (from all over the world) offer a variety of "gigs" for the starting price of — you guessed it! — $5. I've had someone:
clean up a massive Excel chart that was wacky
type 10 pages of handwritten notes for me
create a 3D image of a book
merge a JPG and PDF into one doc
fix/correctly resize a million PDF pages so I could get a book printed at Lulu (I forget if their size requirements were wacky or if the PDF pages I had were wacky. Random backstory here: when I lost a ton of weight on Weight Watchers back in the day I had printed out all of my food journals and kept them all in a huge redweld, always intending to get them bound somehow (both to commemorate the achievement and to be able to refer to them again). There must have been more than 400 pages! I sweet-talked my husband into PDFing them for me (thank you, hunny!) and eventually decided to get them printed at Lulu. The bound book was something like $27 and was SO much better than the velobinding I'd originally been intending. I know: it sounds like a lame project but I'm actually really happy with the finished product, which is about 1/4 the size of the redweld (and way prettier).)
help with a Photoshop issue for a personal business card
fix a Photoshop/JPG issue with sharpening/color correcting a photo of my husband and me that just didn't look right in Shutterfly no matter what I did
Seriously, any time that I think of something that needs to be done and is not something I'm eager to spend hours poking through Google pages and arcane software menus — and can outsource easily without sharing too many passwords/giving permissions — then I check on Fiverr and sure enough, someone is offering to fix it for $5. (You can also hire a ton of freelancers through eLance and O-Desk, but I've had mixed success with some of the freelancers I've hired through those. (But then, I've also looked for bigger jobs/more complicated tasks through those.)
Readers, have you tried to outsource any tasks (either personal or professional) to freelancers? What tasks would you outsource? Has anyone had success with someone cleaning up their iTunes library (mine is a mess!) or editing/organizing/tagging old photos or anything like that?