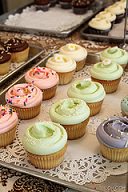 Let's hope I do better at this "birthday" thing with my actual kid rather than my blogging baby… last year I missed the anniversary of this blog entirely, and this year I had been planning to do a number of site changes for the birthday, which I kept thinking was on May 8. (Nope, none of those are done yet.) And then on May 7, I went back to the archives to link to the first post… only to find that Corporette was born on May 7, 2008, NOT May 8.
So: I suck. (Pictured: Magnolia cupcakes, originally uploaded to Flickr by liloh.)
But really, in my mind, the blog was born in January of 2008, when I imagined this great blog for professional women that I wanted to read that no one else was writing, and I thought would be both fun and lucrative to write. I couldn't wait to start — but for the minor fact that I was heading into trial in a few weeks. So the blog idea got put on hold while I did the trial prep, then the trial (we won) … then a few more months while I researched blogging platforms, came up with an editorial plan (most of which was never used), and bought what seemed like 100s of domain names trying to find the right name for the blog. (Discards: Honeybzz, The Pink Briefcase, CEOChic, Get Your Own Damn Coffee, and so many more… ). By May 7 I was desperate to start the blog before someone else did, and decided to pull the trigger on this thing "Corporette," a name my father said sounded too much like "cigarette." At the last minute I came up with an idea to feature one item of work-friendly clothing every day (the TPS report), which, unbeknownst to me, would be the blog's main income.
And the readers, the commenters — I really did not see you guys coming. I mean, I should have — I would have been a monster commenter myself if this were someone else's site! — but to have somehow lucked into running a site with such a community of brilliant, ambitious, stylish readers… it's just too much. Thank you guys, from the bottom of my heart.
And yes: May 7 is now in my Google calendar forever. Happy birthday, little one.
Update: Some of you have noted that you might like to purchase Corporette merchandise… now you can, via Cafe Press! Do note, one of the changes coming to the site in the next <week? month?(s)? fingers crossed> is a new logo, so, please consider this "limited edition" merchandise — you can say you read Corporette way back when. :) I'll put a link to the page on the "Shop" tab up top, as well.