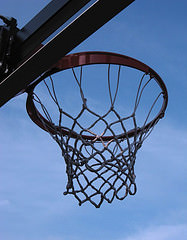 How do you use friends of friends in your job hunt — whether through LinkedIn, Facebook, or just real life? There have been an number of questions about this lately, including Reader A, below… her friend may be starting work at a company with a great work environment and has offered to refer her for a position once she starts, but as Reader A says:
… after looking into the company a bit, I realized that company is co-owned by an acquaintance of mine's, "Ann's" father. I went to Jr. high through college with his daughter, we were on HS newspaper together and had the same major in college and were buddies, but not close friends. However, it's been about 6 years since college and she moved across country so we're pretty much just Facebook buddies. I would really like to ask if she could give my resume to her father as it could be very helpful in securing a position there, but I don't want to seem rude. If she worked there, I'd simply pass it along to her, but is it inappropriate to ask her to give it to her dad? Also, should I have a specific position in mind or be open to anything (which I am? What's the best way to ask her? Please advise me how to go about this situation!
This is a great question, because you should definitely ask. Sometimes a script can be helpful when approaching acquaintances with a favor of this magnitude, though, so here is what I would say:
Dear Ann — How are you? It's been so long; I hope all is well. Your family name recently crossed my path while researching a company I'd love to work for — it turns out it's your father's company! Do you think it would be possible for you to introduce me to your dad via email? I'd love to get his advice for the best way to get into Office X.

A lot has happened on my end of things since our newspaper and college days — I'm sure it has for you too. I took my major in __ and worked at ___, getting really interested in __ specialty. On the personal side of things I have an apartment I love, an amazing cat, and I've recently started dating a great guy…. Are you still using Major __? What's up with you these days? Would love to reconnect the next time you're back in town…
So, to break it down, here's my advice…
– Be very clear about what you want.  Remember, people are busy, so you shouldn't bury the lead: you want an introduction to her father. In fact, I'd even put that as the subject line to the email or FB message.
– Be as warm as possible. Just because you're being clear about what you want doesn't mean it has to be an arm's length transaction. I'd also say that just because you weren't best friends 10 years ago doesn't mean you might not be great friends now — people grow, and I would honestly look at this as a possible "new" friend, particularly if you work in the same industry. Briefly disclose a bit of your life — be positive without bragging, and share without giving TMI. If you've noticed on her activity stream that she recently got married, or moved to a new city, congratulate her on it — tell her the dress was to die for, or offer up your favorite restaurant in that city. Be honest, of course, and not stalkerish. Good: "I seem to remember seeing wedding pictures on your activity stream a while back — congratulations, you looked so happy!" Bad: "I remember from your update on June 3, 2010 that you thought 'people should mind their own business [insert other moody and purposely vague FB post here].' I hope you resolved whatever that was about!"
– Be generally brief so the recipient reads and decides the outcome immediately, instead of setting aside the email to read later.  A lot of this depends on the recipient's attitude about these things, more than your wording of the letter. Some people will think, "Cool, no problem, I'll dash off a two-line email introducing you and him." Some people will immediately think "Wow, I'm so not comfortable doing that;" some of these people will tell you that and others will just not respond. Either way, by being brief and clear in your letter, you get the response immediately — whereas writing a three paragraph salvo may just result in the person saying "wow, this is long, I'll read this later," and then forgetting about it entirely. (For my $.02, if I got an email like this from a high school/college acquaintance, I'd be fine to dash off a two-line email introducing you to whomever, but I would probably make it clear in that email that Reader A isn't my best friend, she's just someone I know from college and high school.)
Ultimately, though, I think this is one of those things where the adage, "You miss 100% of the shots that you don't take," applies. Make the call, write the email — if you miss, so what? It won't hurt in your current job hunt, and if this person is already just an old acquaintance, it doesn't sound like your relationship will be changed much.  (Pictured above: Basketball hoop, originally uploaded to Flickr by Steve A. Johnson.)
Readers, what is your approach for using second- and third-tier connections in your job search? How do you ask for referrals?