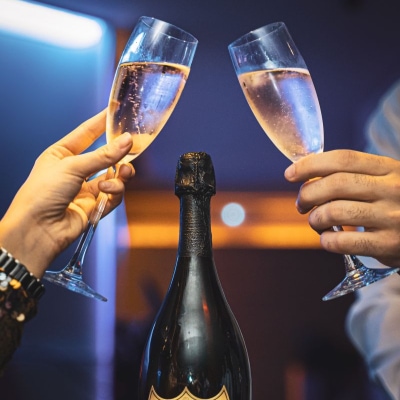 While doing the "Previously" posts for this month, I was thinking that the "desk to dinner" transitions one would be a good one to revisit since we have such a bigger community now to discuss.
At the time I wrote the first post, Project Runway had just done a challenge where contestants had to make one outfit that could carry a woman from daytime work to a hot date — and I just remember  thinking, well this is just going to result in slutty workwear/frumpy datewear.
So I'm curious, readers:  when you have a hot date, or a party after work, how do you handle it? (Pictured: Ballgowns and demolition, originally uploaded to Flickr by Phil Gyford.)

My own method has always to just bring an entirely new outfit to wear out and about.
Tonight, for example, I'm going to a fairly fancy party and so I have a dress, my highest, hippest heels, and my trusty black wrap because it's starting to feel like fall in Manhattan.
Meanwhile, at the office I'm wearing simple black pants, a purple long-sleeved top with ruffles on it, and gray Cole Haan pumps. Heck, I even have a different bra packed for the party tonight.
The only thing I'm planning on wearing the entire day is my jewelry, which admittedly is a bit much for the work outfit (dangly diamond earrings and a right-hand diamond ring, in addition to my regular watch and wedding/engagement ring), but I really dislike throwing good jewelry into a handbag to wear it later.
(Pictured:  These are totally not my earrings, but aren't they pretty? And really, who needs college, grad school, and a nice downpayment for a house when you can have these lovely earrings instead? I always say, if you're wondering whether you should buy a studio in Manhattan or a pair of earrings, go for the pair of earrings!)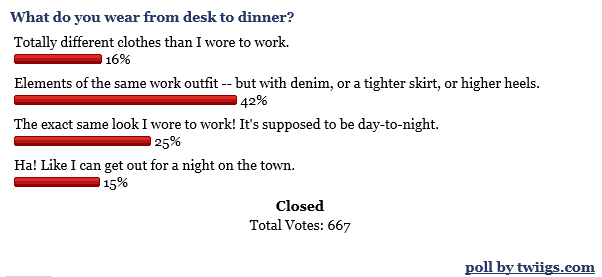 Funny story, though — back when I was dating, I remember going on a first date at a lunch and thinking, well, it would be weird to change into jeans for a lunch date. So I wore what I had worn to the office — black pumps, black sheath dress, and, I think, my pearls — and the guy thought I had gone all out for him (and actually seemed a bit intimidated by that fact).
This post contains affiliate links and Corporette® may earn commissions for purchases made through links in this post. For more details see here. Thank you so much for your support!
Psst: you can sometimes dress up a basic sheath dress with a few great accessories and a change of heels — here are our latest favorite sheath dresses: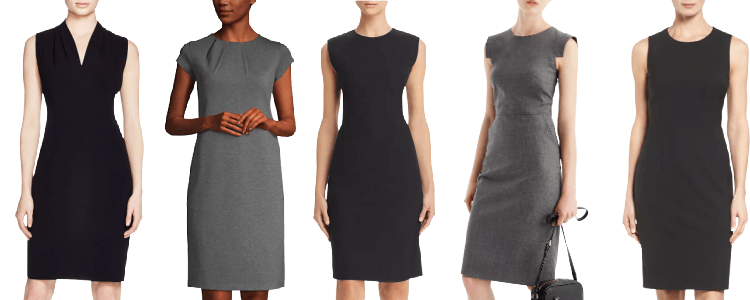 Some of the most stylish sheath dresses for work as of 2022: one / two / three / four / five (not pictured but also)