2018 Update: Because so many of the below pieces are sold out, if you're looking for advice on how to build a professional wardrobe for $150, you may instead want to check out our recent advice on how to buy an entire work wardrobe with no money.
I know a lot of readers love Target for workwear — but since I'm almost never in the physical store (and invariably rushing to look at baby stuff when I am), I jumped at the opportunity when today's guest poster (who has no affiliation with Target) offered to round up her favorite workwear pieces.  Cassie Boorn blogs at Ask a PR Girl.  Welcome to Corporette, Cassie!
Right after college, I started working from home for a PR agency that is based in New York.  While I work at home most of the time, I spend a lot of time traveling to the city and various blogging conferences. I don't get to see my colleagues often so I want to look good when I visit the city but I also don't want to spend a fortune on a professional wardrobe.
The way that I keep my wardrobe fresh without spending a lot of money is by wearing classic pieces and dressing them up with bold accessories. I live in the Midwest and because I live on a budget I have a secret trick to buying classic pieces on the cheap.
What is my secret? Target.
I did a little online shopping and dug up all of the classic pieces every professional should own for under $150. What is even better is that all of the pieces can be purchased with one quick trip to Target (or with a few clicks)…
Here is what you need: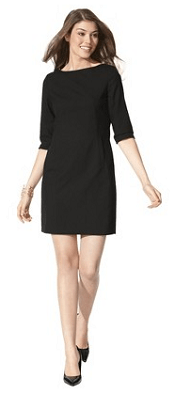 The Little Black Dress: Target always has great "little black dresses" in a variety of styles. Right now I am in love with this black boat neck dress. The cut is super flattering and paired with a bold statement necklace; you can take this dress from the boardroom to cocktail hour. Was $32.99, now $23.08. Mossimo® Womens TRS Boat Neck Dress – Black 
The Pencil Skirt: Right now Target has a bunch of pencil skirts in various colors and patterns. This colorful "bloodstone" one is the perfect way to start your professional wardrobe. Also? It is only $19.99 (and available in nine colors).  Mossimo Black® Ponte Knit Skirt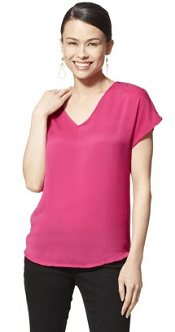 Basic Top: My wardrobe is full of basic black tops that I can wear with pencil skirts, layer under jackets or throw over jeans when I am running to the airport. I am a big fan of this v-neck top from Target. I saw it in person and the material is perfect for the office. It's available in black, pink, and yellow, and is $17.99. Mossimo® Womens Knit to Woven Boxy Top – Assorted Colors
Basic Jacket: I have this exact jacket and wear it all the time. It has a great fit and looks as good matched with a pair of jeans as it does with a pair of dress pants. Where else can you find a jacket for $29.99? (It's on backorder, but you can still order it now.) Mossimo® Womens TRS Boyfriend Jacket – Black
Black Pants: A good pair of black pants can make almost any top look professional. Target has a number of different styles; this pair was only $29.99, but is now marked to $9.78. Mossimo® Womens TRS Pant (Fit 4) – Black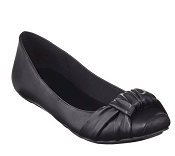 Shoes: I spend so much time walking/running through airports that I go through shoes pretty quickly. I buy nearly all of the shoes I wear to the office at Target. I buy these black flats three at a time, and can't tell you enough about how wonderful they are. They are made of material that is flexible enough that you won't get blisters from heavy walking but cheap enough that when they start wearing down, you don't feel guilty getting rid of them.  Women's Mossimo® Vitia Snip-Toe Bow Flats – Black  (Additionally, here's a good pair of pumps, marked down to $12.48: Women's Merona® Mari Classic Mid-Heel Pump – Black)
One quick shopping trip later and you will be on your way to having the perfect (and affordable) wardrobe.
Cassie Boorn is a writer, social media specialist, entrepreneur and PR girl who has built digital programs for Fortune 500 companies, entrepreneurs, small businesses and bloggers. You can find her at AskaPRGirl sharing advice on everything from finding a mentor to surviving your first blogging conference and personal stories like what being a lush taught her about pitching media.