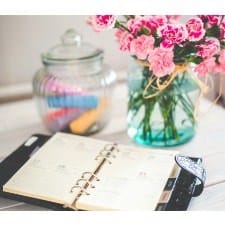 2017 Update: We still think this is a great discussion of how to find the best planner, but you may also want to check out our latest discussion on our favorite office supplies.
We've gotten a few requests for a post on how to find the best planner for you — and I know the readers have been talking about it a ton! — so I thought we'd have a post today. How do you find the best planner for you? Reader J asks:
Can you do an update on the perfect planner post from 2012? I find that I need to use Microsoft Outlook for my corporate calendar to keep in sync with work commitments and colleagues. I dabbled with the Bullet Journal but couldn't make that work and yet I feel like I need/miss the writing down aspect of using a paper journal.)
In our older post, readers recommended Levenger Circa, Staples Arc, Filofax, Russell + Hazel, Quo Vadis, Moleskine, Cavallini, Planner Pad, Exacompta 24, Erin Condren Life Planner.  In addition to those, readers more recently have recommended the Bullet Journal, ShePlans planners, and the Simplified Planner. I'm still figuring out my own system, so I can't wait to hear what recommendations you guys have today!
For my $.02, I use a ton of different systems and haven't found one good one that takes care of everything.  I use a Google calendar for most things and send invites to anyone who needs to know about trips/outings/visits/etc; the calendar entries have any important things relating to the calendar entry — a description, an address, questions I want to ask — if it's a flight I have the airport, airline, flight #, estimated landing time, etc.  On my iPhone I'm a big fan of the app, Tiny Calendar, that syncs with Google calendar. For blog planning purposes we use Trello, which comes with a calendar and is an easy way to keep track of a lot of different tasks; we love Slack too but we've found it hasn't worked the best for general planning purposes. Personally I use Remember The Milk to keep track of different to-do list items.  On the paper side of things I splurged this year and bought an Erin Condren Life Planner — it's a beautiful, beautiful planner, but I primarily use it for recording cute things the kids have said and (more recently) trying to put a checkmark on each day that I've exercised or eaten well — for those simple tasks for 2017 I already bought a $.99 planner that will do the same thing. I love the idea of The Five Minute Journal for planning my day (pick three things to do at the beginning of each day, and at the end of each day recording what went well and what could have gone better.  I'm also a fan of a giant to-do list on a notepad in front of me — every few weeks I cross things off and move it to another list.  (I've experimented with having this giant list in RTM and keeping a printout in front of me so I can check things off — for some reason I prefer just having it on a paper notebook.) I've also experimented with laminating pages of paper that have spaces for me to think about goals for the month/week/day — more recently I also tried to laminate pages that have a little box for all of the different aspects of the business I should be thinking about, but that hasn't worked out so well.
I'm curious to hear what you guys say — what planner are you using currently; what have you used in the past? What do you love about your system(s), and what do you hate about it/them?  Do you feel like any system can work if you're diligent with it, or that planners are personality-driven and you need to go through several to find the best planner for you and your personality? 
Psst: we've also talked recently about best practices for Evernote, as well as the best apps for working women. 
Further reading:
Pictured: Pixabay.