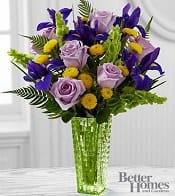 This is a sponsored post, but written by your usual friendly blogger, Kat Griffin.
I don't know about you ladies, but I've been disappointed in some of the online bouquets I've ordered for others recently. They all seem just kind of… middling. The bouquets are small, the flowers are boring, and the main way to pick something "better" is to get a fancier vase or a teddy bear or something. But what about better flowers? So I was thrilled when FTD reached out, because — for some reason — I had never really been to their site before, despite the fact that they've been in business since 1910, and I've never focused on the fact that they are known as the luxury flower provider. Not only do they partner with heavy hitters such as Vera Wang, Better Homes and Gardens, Bacarat, Godiva, Cristal and Dom Perignon, but — SO SMART! — they also let you "upgrade" your order four ways, all based on the flowers. "Good" is the first choice, which they stand behind — their whole site is backed by their 7-day satisfaction guarantee. Next is "Better," which promises "full and lush" flowers; the next level is "Best," which promises "bountiful blooms." Some bouquets also offer a fourth option: "Exquisite," which is "lavish and grand." Here's how they show the flowers varying from one level to the next, using The FTD® Deep Emotions™ Bouquet by Better Homes and Gardens® as an example (which, by the way, is the Editors' Choice, and may be my favorite of the bunch as well). I'd be thrilled to get any of these hot pink and orange bouquets, and I certainly wouldn't be embarrassed to send one. The pictured bouquet starts at $54 (good) to $105 (exquisite), and includes the vase.

Some of my other favorites from FTD's site includes: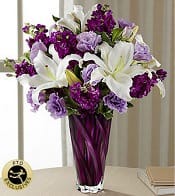 This purple display is vibrant and sophisticated, and I love the combination of lisianthus, Oriental Lillies, and gilly flowers. The pricing for the bouquet starts at $59.99. The FTD® Loving Thoughts® Bouquet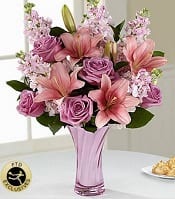 More lillies! My mother has never been a suuuper girly girl, but I could really see her digging these — they just sing "Spring!" The bouquet starts at $59.99. The FTD® Perfect Impressions™ Bouquet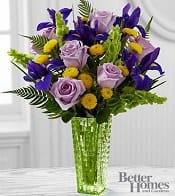 You ladies know I love a good purple-and-green pairing, and this bouquet illustrates why. I love the addition of more unusual flowers in this bouquet, like the Bells of Ireland. The bouquet starts at $49.99. The FTD® Garden Vista™ Bouquet by Better Homes and Gardens®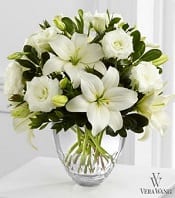 This bouquet is elegant yet modern, and looks perfect for the mom who is, well, elegant yet modern. I even like the vase! The bouquet starts at $69.99. The FTD® White Elegance™ Bouquet by Vera Wang
Ladies, what are your favorite shops for flower deliveries? Which of the above bouquets is your favorite (either to give or to get)?
Psst: note that you can save up to 25% if you order early; prices start at $24.99.