How do you modernize your work wardrobe?  Today's guest poster, Becki Singer of Shopping's My Cardio, ponders the question.  I'm thrilled to have Becki guest posting on Corporette — I've been reading her blog since way back when (before I even started Corporette).  Fun factoid: she used to be a lawyer also and has recently made a switch to focus on writing and fashion. Welcome to Corporette, Becki! – Kat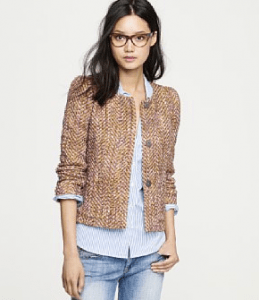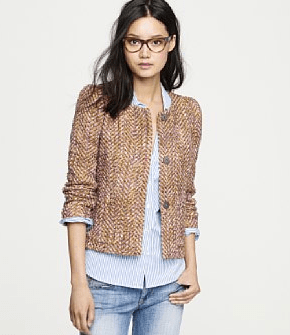 Greetings, Corporette ladies! I'm so thrilled Kat has asked me to stop by and share a few of my favorite tips and tricks for showing off a bit more style at work. It's a tricky business, to be sure. I spent years dressing for a law firm before I left for the wonderful world of blogging, so I know the world of grey suits all too well. But the one thing I realized as I spent more time on fashion and less time on law was that the two aren't mutually exclusive. True, if you're in the courtroom or the boardroom, conservative rules. But these days, clients and customers expect to see a bit of fashion-forward style from their professionals. After all, a great wardrobe is one of the great things that separates us from the boys. And so, I thought I'd rummage through my style advice, and pass along a few of my favorite tips for keeping your work wardrobe on-trend, without fully crossing into fashionista territory.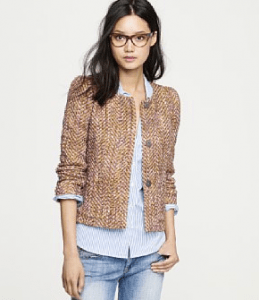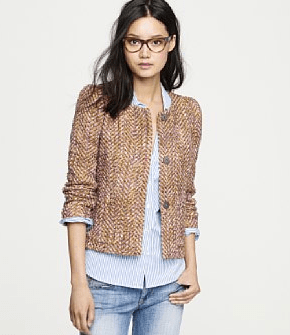 First, celebrate your suits! Just about every piece of style advice I see for professionals starts by telling you to ditch the standard suit, and mix up the pieces to create new looks. For a variety of reasons, I'm not wild about that look. Generally, it's pretty obvious you've mixed and matched, and the results are never as seamless as you'd hoped. Different fabrics, different tones, different finish details…a suit is a suit for a reason. Unless you're mixing a dark blazer with a highly patterned trouser, I say stick with the original. But that doesn't mean there isn't room to play. Instead of your usual staples, try picking up a suit in a head-turning plaid or tweed. Keep the color palette neutral to ensure versatility, but in this case, the bolder the suit, the bolder the statement. And while I don't advocate mixing suit pieces, a patterned suit does play remarkably well with others. Try ditching the blazer for a classic in leather, and adding a simple silk shell to instantly add some style currency. (Pictured: Technicolor tweed jacket
, available at J.Crew for $595.)
Give leather a try.
You'd be amazed at how easily it translates to even the most conservative workplace. Especially this fall, you'll see leather skirts and blazers everywhere – don't be afraid to get in on the trend. True, the leather pant is best left to your weekend barhopping, but pair that plaid blazer with a suede skirt, and you'll have a seriously professional look that's infinitely more stylish. Or give the black blazer for your favorite power suit the day off, and sub a fitted leather blazer in a ladylike shape. The trick to making leather work-appropriate is to keep the silhouette and color demure – nothing too bulky or shiny. Look for matte leathers, leather trim, or even suede, in soft silhouettes that you'd expect to see in gabardine. I love a knee-length, A-line suede skirt for work – add a patterned silk blouse or crewneck cashmere sweater, a mid-length gold chain and your favorite neutral pump, and you're set. (Pictured: Classiques Entier® 'Lamb Moss' Leather Jacket
, available at Nordstrom for $398.)
Banish the black. Now that I have you thoroughly out of your comfort zone, my next piece of advice might not be quite as painful. Brace yourselves, because I want you to banish the black (and the navy and the grey)! Now, not forever – a black suit is a classic for a reason. But, just for the sake of sartorial experimentation, try pushing whatever dark, neutral hue you gravitate to every morning to the back of your closet for a week. Getting dressed in the morning without that staple in arm's reach will do wonders for your closet creativity – trust me on this. At the end of this week-long experiment, you'll be amazed by how willing you are to pair navy with emerald green, or cobalt with chocolate.
Play with pattern and color — another great way to up the ante on your office style. Colorblocking is huge this season – so reach for those bold color combos without fear. For fall, you'll see two different variations on color trends, and they couldn't be more different. First, pattern-mixing is still huge. It's a trickier trend to try at work, but that doesn't mean it can't be done. Just be sure colors are in the same family, and keep the silhouettes simple – let the patterns be the star. Too scared to try? How about a black-and-white tweed jacket over a patterned silk blouse? It's a virtually foolproof starter for pattern-mixing. Spend 20 minutes playing around in your closet some evening, and try pairing that jacket with absolutely every patterned piece you own (dresses included!), and see what sings to you. (Pictured: Joie 'Mirabella' Silk Blouse
, available at Nordstrom for $218.)
Try dressing monochromatically. On the opposite end of the spectrum is monochrome dressing, a great way to get more mileage out of those suits and up your style quotient at the same time. Add a black button-down, black pumps and a patent black belt to your favorite black suit, and watch it jump from reliable to cutting-edge. But don't stop at black. Any color can go monochrome – in fact, the colors don't even have to match perfectly, as long as they're in the same family. When in doubt, hold them up together and take a hard look– your eye will tell you if it's a fit. I've even resorted to taking a camera phone picture if I'm really unsure. Have a pair of red trousers? A red cashmere sweater? Add your favorite red ballet flats and go for it! If you must, tack on a camel blazer for safety's sake, but I have a hunch you'll be relegating that blazer to the back of your office door in no time.
And last, but certainly not least, I can't leave without giving you my favorite office dressing tip of all: layers. Layers, my friends, will save you from a lifetime of wardrobe boredom. Make your weekend shirt dress or sleeveless silk tunic do double-duty by having your drycleaner press it, and wearing it belted over a pencil skirt. Sick of that boring cashmere shell? Try it over a crisp button-down shirt, and under a trouser suit (leave the shirt untucked, please). Or better yet, try the same trick with that patterned silk blouse we talked about earlier. And, pardon the rhyme, but invest in a vest. Find a modern style, and try pairing it with absolutely everything you own until you find a look you love. (Pictured: Smythe Double Knit Vest
, available at Nordstrom for $450.)
If nothing else, I hope I've inspired you to go spend some quality time in your closet. Lock the kids and the spouse out of your room, and spend an hour just playing. You'll be amazed at the combinations you come up with. Particularly when it comes to professional wardrobes, I find there's rarely a wrong answer when combining pieces – they're all built to be friends. So, branch out, be bold, and have fun!
Readers, what tips and tricks have you learned as you got more comfortable dressing professionally?
Interested in writing something similar for Corporette? Check out our guest posting guidelines.